Meet Our Team
India Gospel League represents a network of thousands of Christian workers; pastors, houseparents, Bible study leaders, children's workers, leadership trainers and faithful laborers throughout South Asia.  Our leadership comes from our head office in Tamil Nadu, India, where Rev. Samuel Stephens, his family, and his staff provide encouragement, oversight and vision to IGL.
In North America, we have a team that has come together around the vision of IGL, desiring to share what God is doing, raise up prayer and financial partnerships to assist the work in South Asia, and be faithful managers of the financial resources entrusted to IGL from North American donors.
Rev. Samuel Stephens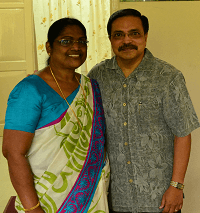 Rev. Samuel D. Stephens is the third generation leader of the India Gospel League, which was founded in 1948 by Samuel's grandfather, Rev. Devaprasad Stephens. He passed the ministry to Samuel's father Rajah, who in 1971 established the ministry as a Registered Society. Samuel D. Stephens served as a barefoot pastor until his father's death in 1988, when he assumed leadership of the ministry.
President, IGL-NA
Join our team
Travel Coordinator
The India Gospel League's Hudson Ohio office has a job opening for a full-time Travel Coordinator. If you have a heart for ministry, have excellent communications skills and are attentive to details, then this may be the job for you! Daily work includes coordination of all IGL India staff travel to the US, management of all short-term teams traveling to India, communication with team leaders and staff in India, and distribution of important travel documents.
We're looking for a Christ follower who is self-motivated and has a minimum of two years' experience in a multi-tasking environment. Computer and typing skills are a must, particularly with Word and Excel. You'll need to be organized and accurate and enjoy working with a diverse group of people. Personal integrity and the ability to maintain confidentiality are a must.
We offer the chance to work with a great team in a growing nonprofit with the opportunity to learn first-hand about the amazing work God is doing in South Asia, and you get to play a part in it as well!
If interested, email your resume and completed job application. A job application can be downloaded below.