Share Jesus with 5 kids, for $5!
November 18th, 2013 by Kate Smith | | Posted in Encouraging Stories, Opportunities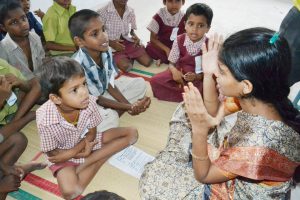 $5 sends 5 village children to a Children's Gospel Club, a unique opportunity to reach the least-reached people groups on earth with the message of Christ! Clubs launch in the summer with VBS-style discipleship, and they carry forward for a whole year of weekly meetings. For just $1 per child, you can make this possible, not just for one week – but for one year. Thousands of club leaders are trained and ready to carry the Good News across India. In 2013, India Gospel League reached over 600,000 children through these clubs, and we are praying for many more this year.
In addition to reaching kids, many lost families are being reached because children are learning the Bible at clubs, then sharing it at home!
How many kids will you send to Children's Gospel Clubs this year?
for the cost of a morning coffee?
for the cost of a fast-food lunch?
for the cost of an appetizer before dinner?
If you'd like to sponsor more children to attend Children's Gospel Clubs, click here.