Host a Prayer Meeting for India
January 2nd, 2014 by Dan Jarvis | | Posted in Opportunities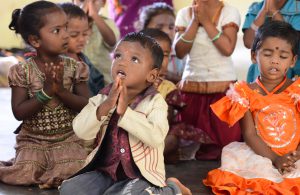 Prayer is essential to the completion of our mission!
Would you like to get a few friends together to pray, seek God, and ask Him to transform India (and beyond) with the gospel? Below, you can find a suggested meeting outline – complete with prayer requests, Bible passages, and ideas.
Prayer Meeting for India
Prayer Part 1: The Laborers Needed (Luke 10:1-3) 
– for the selection and training of church planters
– for IGL and their regional leaders in India that will assist these planters
Prayer Part II: The "Senders" of Those Who Will Preach (Romans 10:9-15)
– for many individuals and churches worldwide to join in this strategy
– for the funding, training and volunteers needed

Prayer Part III: The Faith of the Church Planters (Ephesians 6:10-20)
– for boldness in the face of opposition
– for clarity of direction from God and of sharing His Word
– for strength and grace to do their work
Prayer Part IV: Open Hearts in India (2 Corinthians 4:3-6, 2 Peter 3:9)
– for the 1.3+ billion Indian people, mostly Hindu and Muslim
– for the many people groups without a Christian witness or Bible translation
– for the villages our church planters will walk into first
– for a continuance of the spiritual revival and church growth now occurring
Prayer Part V: Celebration of What God Will Do (Psalm 22:25-31, Revelation 7:9-12)
– the Great Commission must be completed in our generation
– those with the gospel today must finish the task Jesus gave us to do
– God has given us the honor of participating in His plan
Idea: If you have more than 5 participants, you can break up into smaller groups of 3 or 4 for a few of the above sections to mix things up and give all individuals a chance to pray aloud.
___
Would you like to join IGL's prayer team, and be among thousands who are praying for the work in South Asia?  Learn more.