Inside an Indian Church
January 7th, 2014 by Dan Jarvis | | Posted in Encouraging Stories, Mission Conversations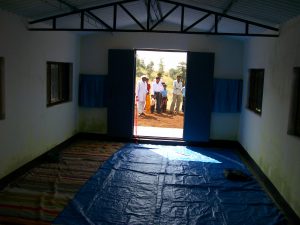 How does a rural Indian church compare to the church you attend?
WORSHIP: Acoustic drumbeats, fast clapping (everyone clapping), lots of hand-waving and smiling, even a bit of dancing; children standing up to read Scripture aloud, passionate prayers all at one time, and an air of festivity and celebration filling the building. Often without electricity.
SEATING: Only a few plastic chairs – usually reserved for special guests. Everyone else sits on the stone floor, or on a small mat.  Kids and babies too.
FOOTWEAR: Sandals and shoes are removed at the entrance of the building.
BIBLES: Many of the attendees are illiterate, so they rely on the public reading of the Bible from the pulpit. Few families have their own copy of the Bible.
SIZE: The sanctuary area is about the size of a one-car garage. There are no office or education spaces beyond that single room.
HISTORY: The church was probably founded within the last 25 years, and the worship building (called a Life Center) was probably constructed even more recently.
VISION: The IGL-associated pastor is committed to planting one new church every year, in surrounding villages. The believers of the church are trained intentionally for witnessing, and many young men in the congregation are mentored by the pastor for future ministry.
TRANSPORTATION: The pastor either arrived on foot (if he lives nearby) or on bicycle. Since he may have other churches in other villages he is also responsible for, congregants may only see him once a week.
COMPASSION: The church looks for direct ways to minister to beggars, outcasts, lepers, orphans and the poor; through IGL partnerships, they not only tend to the spiritual needs of the village, but physical and economic needs as well.
CHILDREN'S MINISTRY: Kids from the village are invited to Children's Gospel Clubs, and teens teach kids the basics of the gospel, and engage them in one year of discipleship.
In every part of the world, the Church of Jesus looks different, but is rooted in the same gospel vision. From big cities to tiny villages; from jungle huts to high-rise apartments, let's be faithful in Christ's service, representing God's kingdom boldly. And let's pray for one another.
___
Ideas: