About IGL's Medical Ministry
April 10th, 2014 by Kate Smith | 1 Comment | Posted in Field Updates, Opportunities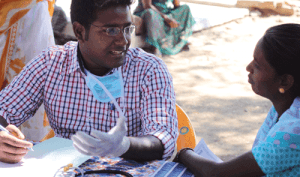 Did you know? Each year 30 million villagers in India fall into poverty due to health care costs.*
In India, three-quarters of the burden of health care costs falls to individual households, plunging families into poverty. Living in the Unites States or another developed country, it is easy for us to take for granted wonderful and accessible medical care. In much of rural India, hospitals are either too far away or unaffordable.
As part of India Gospel League's medical ministry, we operate the Sharon Cancer Center and General Hospital in Salem, Tamil Nadu, providing a wide range of treatments, including surgery and cancer care. An extension of the hospital, the Sharon Mobile Hospital, a "clinic on wheels," brings much needed medical supplies and care to remote villages.
In 2013, IGL was able to care for 4,176 patients through Sharon Hospital and another 5,993 patients through medical camps! So far this year, IGL has treated nearly 3,000 patients through both the hospital and medical camps!
IGL's medical ministry works hard to provide affordable or free medical care to those who need it most. You can make a difference in the lives of rural villagers by donating to Sharon Hospital Fund today.
*The Lancet, "Health care and equity in India", 2011