Children's Gospel Clubs Have Begun!
June 10th, 2014 by Kate Smith | | Posted in Field Updates, Opportunities
Every spring we begin a new round of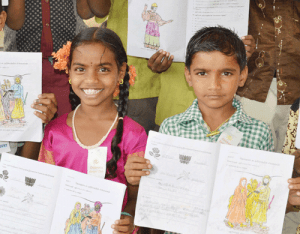 Children's Gospel Clubs (CGCs), which combine the best of VBS and Sunday School together, forming a discipleship program that meets weekly for an entire year!
CGCs offer hope in a land plagued by poverty, disease and spiritual darkness. Children who attend a club will not only learn about Jesus, they'll be encouraged to share Him with their families and friends. This creates a lifelong impact, and can ripple through families and villages. Some of our CGC attendees have even grown up to become IGL church planters!
On May 1 the summer program began holding clubs in over 12,200 centers in 10 languages and two countries. To prepare for this enormous undertaking and to reach our goal of discipling 625,000 kids, we trained 1,000 CGC leaders and 60,000 CGC teachers. Just $1 is all it takes to give a child in South Asia a whole year of Christian discipleship – this includes not only sharing the gospel message, but also training in theology, Christian living and Bible stories.
$1 = 1 more child hearing about Jesus
India Gospel League would love to be your partner in global children's missions. To find out more about how you, your VBS program, your church or your community can be a part of reaching kids in India through CGCs, visit www.IGLWorld.org/CGC.