Meeting Them Where They Are
June 24th, 2014 by Kate Smith | | Posted in Field Updates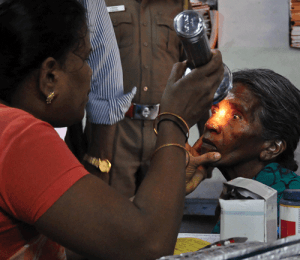 With 68 percent of India's population living in rural areas, most do not have convenient or affordable access to health care. Thus, India Gospel League's Sharon Hospital has created a way to meet the people where they are – the Sharon Mobile Hospital.
Twenty to 25 days a month, a few nurses and doctors pile into a van filled with medical supplies and travel out to villages that have little to no access to medical care. Once they arrive at the villages they set up what we call Medical Camps. People from all around the village come to receive everything from general check-ups to minor surgeries and baby deliveries. So far this year nearly 3,000 people have been treated through the Sharon Mobile Hospital.
Here is the story of one woman who was helped through a medical camp:
Ananthayee, 43 years old, has been afflicted with cervical cancer for the last 6 months. She has two children and her husband works as farm laborer. To pay for medical expenses incurred at a private hospital, she borrowed money at inflated interest rates and sold all her property and jewels. Still unable to afford the medical treatment she desperately needed, she came to Sharon Mobile Hospital where she received the treatment for free!