Immeasurable Impact
Summer Quarterly Newsletter 2014
June 28th, 2014 by Kate Smith | | Posted in Encouraging Stories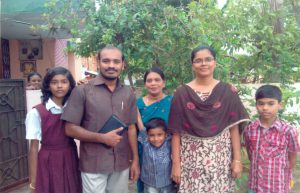 "Let the children come to me; do not hinder them, for to such belongs the kingdom of God." (Mark 10:14)
India Gospel League's child discipleship program, Children's Gospel Clubs (CGCs), reaches hundreds of thousands of children every year, teaching them about Jesus and how to live for Him.  Many of the children take what they have learned back to their friends and family, helping save them out of spiritual darkness as well. Some even grow up to dedicate their whole lives to the kingdom of God by becoming Barefoot Pastors or CGC teachers, making their impact immeasurable. One young man, Praveen, has just such a story.
Praveen started attending a club at the age of 12 after his mother became a Christian. There he was introduced to Jesus – who He is and what He has done. Praveen did not care much about knowing Jesus at the time, but after turning 18 he understood the importance of having a personal relationship with Jesus, so he decided to accept Him as his Lord and Savior. The young man was filled with excitement and wanted to share his newfound joy with everyone.
"I was very active in my youth group and started to share my new life in Christ with my other friends."
A local pastor took Praveen under his wing and taught him what it meant to live for the kingdom of God and trained him to become a pastor.
"I felt the Lord's calling in my life. The Lord was speaking to me through the teaching and preaching of the Pastor. Then I committed my life to fulltime ministry when I was 19 years old."
After receiving seminary training, the Lord called Praveen to a village where there was not even a single Christian. But Praveen was not daunted, he had a God-size vision – he wanted to plant at least one church every year. So he started where it all began for him: he started a CGC program in this village.
To date Praveen has planted 10 churches and raised seven leaders for these churches. Each of these leaders was a student from his CGC ministry and has gone out to preach the gospel in more villages and has raised up even more leaders – at least two to three per person. In Praveen's own congregation there are more than 110 believers.
Think of it: this immeasurable impact began with one person, giving one dollar, just a few years ago. Today that investment is yielding a "rich harvest of righteousness" resulting in hundreds of new believers. (2 Corinthians 9:10)
Please pray this impact would continue not only with Praveen, but also with the more than 625,000 children who will attend CGCs this year.