Help Us Enlist 10,000 to Pray
August 19th, 2014 by Kate Smith | | Posted in Opportunities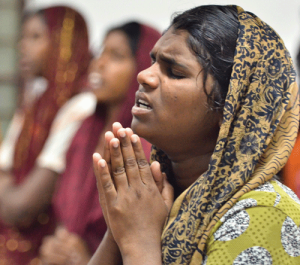 "The man who mobilizes the Christian church to pray will make the greatest contribution to world evangelization in history." Andrew Murray
Prayer is incredibly powerful! So powerful, in fact, that the apostle Paul tells us to "pray without ceasing." Prayer is how we communicate to the Lord, first our praise, thanksgiving and confession, but also our needs to do the work He has set out for us.
"Whatever you ask in my name, this I will do, that the Father may be glorified in the Son. If you ask me anything in my name, I will do it." (John 14:13-14)
Because of the immense power of prayer, we at India Gospel League are calling for 10,000 men, women and children to be "mighty in prayer" for South Asia. Will you invite others to join us in prayer? They can sign up here to join the 2,340 already praying and receive biweekly prayer requests and updates.
Your prayers are being answered all across South Asia with dozens of people beginning a personal relationship with Jesus every day, hundreds of thousands of children attending Children's Gospel Clubs and so much more. Whether you are new to the IGL family or have been a long-time prayer partner, thank you for your commitment to pray for the ministry!