Annual Pastor's Training Conference Preparations Underway!
September 30th, 2014 by Kate Smith | | Posted in Field Updates, Opportunities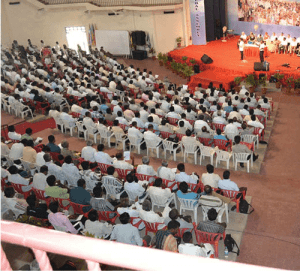 Every November nearly 1,000 church planters, pastors and Christian leaders who are a part of the NAIC (Non-denominational Association of Interdependent Churches) and Vision 2000* gather together for prayer, Bible training and encouragement. This annual conference will kick off on November 4 with the theme "Behold I make all things new," from Revelation 21:5.
These were words given to the first century church to encourage them as they faced steadily increasing tribulation and persecution. The church in India faces similar trials, yet, despite the persecution and various barriers, is experiencing an overwhelming response to the gospel and a huge wave of growth.
This theme will emphasize newness of life that awaits the believer, the power of God to transform lives and God's sovereignty, giving God's people confidence and faith as they look forward to the ultimate victory that is destined for them.
Because most of the pastors in the NAIC network reside in remote villages with little to no access to outside resources, attending this training conference is critical. However, many of the pastors cannot afford the cost associated with traveling to and attending the conference. Would you consider helping equip a pastor? Just $55 provides conference admission for one pastor. Click here to send a pastor to receive training this November.
*Vision 2000 is a church planting movement initiated by India Gospel League in 1992 with 200 pastors who planned to reach every unreached village in India with the Gospel of Jesus Christ. Today, thousands of pastors have joined this vision, meet regularly for fellowship and training, and have planted more than 80,000 churches.