A Modern Story of the Good Samaritan
October 14th, 2014 by Kate Smith | | Posted in Encouraging Stories, Field Updates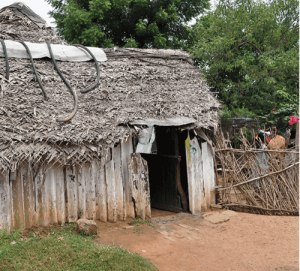 In Luke 10 Jesus illustrates what it means to love your neighbor through the story of the Good Samaritan, in which a Jew is robbed, beaten and left by the side of the road to die. A Pharisee and a Levite pass by without helping the suffering man, but when a Samaritan comes upon the man, he stops, cleans his wounds, puts him on his donkey and carries the man to the nearest inn where he pays for the man's stay and care.
Through this parable we learn loving your neighbor means putting your neighbor's needs above your own and sacrificing your time, energy and financial resources for the benefit of another. Recently, one of IGL's barefoot pastors demonstrated this sacrificial love.
Eighty one-year old Mookayee and her 83-year old husband were living alone in a damaged, thatched roof hut with no one to take care of them. Their meager income of $17 a month did not even meet their daily needs. One day Mookayee fell in a ditch in her hut and could not get up. She lay there for hours before someone from the local church found her and brought her to the pastor.
The pastor and his wife cleaned Mookayee's injuries and took her to the nearby hospital. After a week of medical care she recovered. The pastor and his wife supported the couple and fed them for a whole month. During this time, Mookayee and her husband started attending the local church where they eventually accepted Jesus as their Lord and Savior. Now both husband and wife distribute gospel literature and share the Good News with people in the surrounding villages.
"Because of this timely help we were saved. Otherwise we would have died on the street. Jesus had sent the pastor to save our lives." – Mookayee
How are you fulfilling the Lord's command to love your neighbor as yourself?