Training Pastors
Fall Quarterly Newsletter 2014
October 20th, 2014 by Kate Smith | | Posted in Field Updates
Have you ever been to a conference or a retreat where you felt rejuvenated and reminded of the glories of God?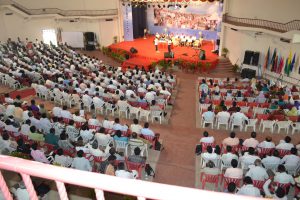 For many pastors in India, IGL's conferences are the only time when they can gather with other leaders to fellowship and be encouraged. It is a very refreshing and informative time for them as they develop a deeper understanding of the Lord and are provided with teaching materials to share with their congregations. Both of these are critical to the pastor's development because, unlike the U.S., there is very limited access to teaching materials in rural South Asia. 
"The Vision 2000 regional meeting teaching materials are really helping me develop my teaching and preaching skills. Above all, this gathering gave me new confidence. I am determined to plant new churches every year in a different unreached village. Thank God!" – Pastor Bapu "I am living in a place that is very close to the Nepal Border. You don't find many Christians in this part of the country. Sometimes, I feel very lonely and many times my family gets very depressed. But our regional monthly meetings are really a booster for me and my family. Whatever I learn from the training session and the meetings I execute in the church as well as in the family. Praise God!" – Pastor Santhosh
This is a historic moment for church growth in South Asia and the need for training of leadership is great. Sadly, most pastors cannot afford the $55 average per person cost for travel and materials to attend these conferences. Will you prayerfully considering contributing toward conference costs to equip and encourage pastors through the Word of God?   Please visit www.IGLWorld.org/Conferences to find out more or send a pastor.
*Vision 2000 is a church planting movement initiated by India Gospel League in 1992 with 200 pastors who planned to reach every unreached village in India with the Gospel of Jesus Christ. Today, thousands of pastors have joined this vision, meet regularly for fellowship and training, and have planted more than 80,000 churches.