"Behold I Make All Things New"
Fall Quarterly Newsletter 2014
October 20th, 2014 by Kate Smith | | Posted in Field Updates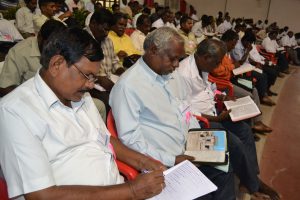 Revelation 21:5, the IGL teaching theme for 2015, will kick off at the annual pastor's training conferences this November.
November 4 will begin the three day Non-denominational Association of Interdependent Churches (NAIC) conference in India, followed a week later by a three day national conference in Sri Lanka.  Samuel Stephens and seven pastors from the U.S. will be teaching more than 1,000 pastors about the promise we have from Christ "to make all things new".
These words in Revelation were given to the first century church to encourage them as they faced steadily increasing tribulation and persecution – God will make all things new! As the church in South Asia experiences trials and persecution similar to the early church, let's pray that the believers there will be encouraged by these words and by God's renewing Spirit.
With this promise, all of God's people can look forward with confidence to the ultimate victory that is destined for them. "The new creation is not merely a return to conditions in the beginning but a recreation.  It is the completion of God's purposes that were set forth from the beginning and realized by the redemption in Christ in spite of man's sin, the fall and its destructive consequences," Rev. Samuel Stephens remarked.