For the Glory of God
Fall Quarterly Newsletter 2014
October 20th, 2014 by Kate Smith | | Posted in Encouraging Stories, Homepage Stories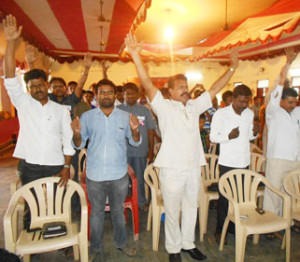 More than a decade ago, a barefoot pastor felt a call from the Lord to move to a village in the region of Mehabubabad. 
No one there seemed interested in hearing the gospel message. For the first few Sundays, only the pastor and his family showed up to worship the Lord. He was even told to leave the village and was beaten and stoned when he didn't comply. But instead of becoming discouraged, the pastor courageously continued the ministry.
Through the incredible witness of the pastor's persistence, villagers started coming to hear about the Good News of Jesus. Soon, a small group of new believers outgrew the home they were meeting in, and shortly thereafter outgrew the small shed they met in. They decided to pray and fast for a Life Center to use as a church building. 
"God heard our prayers and through IGL God helped us financially to complete this church." – Pastor J. (name not provided for the pastor's protection)
Once the Life Center was completed, they held a dedication service where Rev. Samuel Stephens shared a short message from Romans 12:11 to celebrate the Lord's work in the village and encourage the believers to continue forward. 
"Do not be slothful in zeal, be fervent in spirit, serve the Lord." (Romans 12:11, ESV)
Sam urged the church believers to dedicate and prepare themselves for great things in the coming years and encouraged the believers to:
Never lack in your zeal for the Lord.

Always keep the spiritual fire alive.

Serve the Lord in the community.
He reminded them that everyone is called to be a disciple and that God has chosen each one of us with a specific purpose – to serve for the glory of God, a purpose we often forget in our everyday lives.
While we praise God for many stories of provision like this one, will you please join us in intercessory prayer for the hundreds of Indian churches still in need of Life Centers?