In the Face of Persecution
Fall Quarterly Newsletter 2014
October 20th, 2014 by Kate Smith | | Posted in Field Updates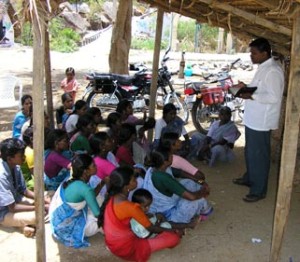 Persecution against Christianity has always been prevalent in South Asia. Families often threaten to disown relatives that leave Hinduism or Islam for Christ.  Religious extremists threaten to murder, stone and beat professing Christians (and sadly, sometimes follow through on those threats).  Recently, Hindu activists plotted to murder one of IGL's barefoot pastors because of the Good News he was teaching.
Among the many extremist groups that are already active in South Asia, "Islamic State" (IS), also known as ISIS or ISIL, is also gaining a presence there. Recently in an online video, IS made a call to Muslims in South Asia to "raise the flag of jihad, return Islamic rule, and empower the Sharia of Allah across the Indian subcontinent." And slowly Muslims from South Asia are signing up to fight for the cause.
In the Middle East, this is the same extremist group that has announced Christians must "convert or die." When believers have refused to give up their faith in Jesus, the members of IS have brutally murdered them and their families (including their children). Please continue to pray for the pastors and their families who are faithfully serving in South Asia, that they may meet this growing threat as Christ met His own – with the desire to glorify the Lord. 
"Beloved, do not be surprised at the fiery trial when it comes upon you to test you, as though something strange were happening to you. … if anyone suffers as a Christian, let him not be ashamed, but let him glorify God in that name." (1 Peter 4:12-16, ESV)