Pastors' Conference Is Almost Here!
October 27th, 2014 by Kate Smith | | Posted in Field Updates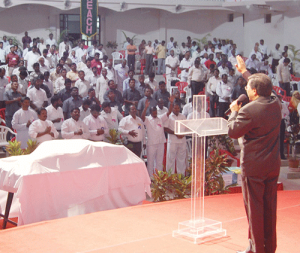 Have you ever been to a conference or retreat where you felt rejuvenated and reminded of the glories of God?
Next week, November 4-6 and 10-12, nearly 1,000 pastors, church planters and Christian leaders will be attending the annual pastors' conference! The attendees are very much looking forward to this time of refreshment, equipping, training and encouragement.
Testimonies from pastors who have attended other conferences through IGL:
"I need such fellowship with pastors every month. It is necessary for the growth of the ministry. IGL is giving the independent pastors a way to join together." Pastor Jonathan

"I was feeling loneliness in the ministry of church planting for past couple months. But IGL fellowship in the region has given me the wonderful fellowship of other pastors. After hearing wonderful testimonies of other pastors I'm greatly encouraged and have overcome the feeling of loneliness. Now I feel an army standing with me in praying and supporting my ministries." Pastor Chachere
Will you too "stand in prayer" alongside these pastors? Will you pray that God will use this conference to equip and encourage these humble servants? There's still time to help support this conference financially as well. Please visit our website to learn more today.