CHILDREN'S MINISTRY UPDATE
JUNE TO AUGUST 2014
November 11th, 2014 by Becky Stanley | | Posted in Field Updates
I am happy to pass along to you a report straight from our Children's Ministry Department in India. The report highlights the activities at India Gospel League's children homes over the past three months I hope you enjoy the update! You can view the full update here and read some excerpts below!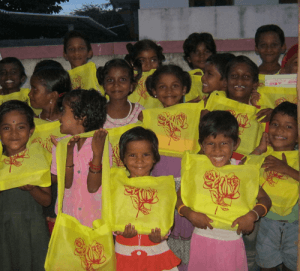 In July, through IGL's sponsorship program, 4,500 children received new school kits that contained books, stationery and other school supplies. The children also received school uniforms. The children were so eager to get their new supplies, they lined up hours before the scheduled time. They waited patiently in perfectly straight lines eager to get hold of the school kits and uniforms. When they finally had the kit in their hands, they quickly went over each and every pencil, notebook and eraser as if it were a priceless treasure. They proudly wear their uniform, sling the bag across their tiny shoulders and walk with their heads held high.
The nearly 500 children of Elizabeth Home, Anderson Home, Vishranthi Home and Sharon Home were invited to the Carmel Conference Center on July 18, 2014, for a banquet. The evening was filled with a wide range of activities that included songs, gymnastics, dances, skits and some cultural activities. The children were able to demonstrate their talents in front of a big audience.
In June, Blessing Home for children in the Manachanallur region received a long awaited gift. With few toys of their own, many of these children spent their free time playing with sticks and rocks in the open field surrounding the home. On July 17, a playground was dedicated for the 70 children of Blessing Home.
If you are interested in staying in touch with your sponsored child, all written communication can be sent to our office in Hudson, Ohio, for forwarding to India (1521 Georgetown Rd. Suite 305 Hudson, OH 44236). Or if you prefer to email your child, click here.
Thank you for touching the live of a child!