Persecution Rises to an All-time High in India
January 13th, 2015 by Kate Smith | 1 Comment | Posted in Field Updates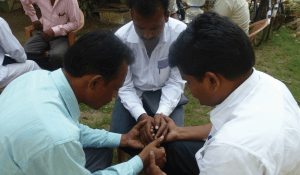 The World Watch Monitor, which reports on persecution of Christians around the world, ranked India at number 21 on the list of countries where Christians face the most persecution in 2015, up from number 28 in 2014.
The main reasoning for this ranking is the rise of religious nationalism since the induction of the new Prime Minister Narendra Modi, a Hindu nationalist. In the first 100 days after his election last May, there were more than 600 attacks on non-Hindus. Hindu radicals also took part in the planned Christmas re-conversion of 5,000 Christians and Muslims to Hinduism where they beat carolers, burned churches and made December 25 a holiday on which all children must attend school.
As the World Watch Monitor said, "Violence against Christians is rampant… Reports on pastors and church members beaten up because of allegations of conversion are frequent, sometimes Christians are even killed."
Our brothers and sisters in India are looking toward an uncertain year filled with persecution and oppression. But we know that our Lord is good and we can rejoice in every suffering we have for the name of Jesus Christ because His glory is revealed.
"Beloved, do not be surprised at the fiery trial when it comes upon you to test you, as though something strange were happening to you. But rejoice insofar as you share Christ's sufferings, that you may also rejoice and be glad when his glory is revealed. If you are insulted for the name of Christ, you are blessed, because the Spirit of glory and of God rests upon you." (1 Peter 4:12-14)
On February 6, the Hindu radicals are planning another "reconversion" day to convert Christians and Muslims back to Hinduism. Please pray for our brothers and sisters across the world that they would stand firm in their love for the Lord and be an incredible witness of the power of Jesus to the rest of the world as they stand firm in their faith.