The Climb Out of Poverty
January 28th, 2015 by Kate Smith | | Posted in Field Updates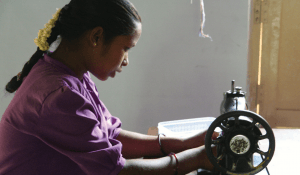 "I am for doing good to the poor, but I differ in opinion about the means. I think the best way of doing good to the poor is not making them easy in poverty, but leading or driving them out of it." Benjamin Franklin
Many women in South Asia, like Sivarudhri, live in extreme poverty, hopeless to change their dire situations. The gift of food and clothing, however, will only temporarily solve their problem. As Franklin said so well, we need to help the hopeless out of poverty through training and education.
Sivarudhri, after completing the 10th grade, did not have the financial means to further her education. Her father works an average of two to three days a week as a daily wage laborer, and the income received is not enough to sustain his family.
Sivarudhri wanted to help support her family, but was having difficulty finding work. She heard about a local IGL Skills Center and decided to join for a six-month tailoring program. A quick learner, Sivarudhri became an accomplished tailor, a skill that will benefit her and her family for years to come. She now plans to open her own tailoring center!