Providing Clean Water
Winter Quarterly Newsletter 2015
January 29th, 2015 by Kate Smith | | Posted in Field Updates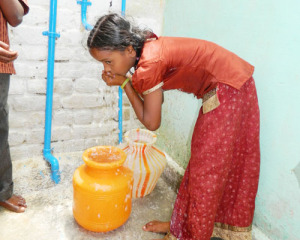 Did you know that rural India accounts for 11 percent of the world's population without access to clean water? That doesn't sound like a lot until you realize exactly how many people that affects – 88 million. The World Bank estimates that 21 percent of communicable diseases are water-related and 1.3 million children die under the age of 5 in part because of the lack of clean water. IGL works hard to provide villages with sanitary water through its Clean Water Well program. Last year, IGL built 18 wells, providing more than 16,000 people with clean drinking water!
One village in the state of Tamil Nadu desperately needed a well with its 3,800 residents as well as those living in the five surrounding villages, each with a population of around 1,000. This area is very dry with little rain, so water is scare. Farmers have converted their land into housing developments because they cannot water their crops. Wells in this area need to be at least 400 feet deep to touch water, a depth usually only the wealthy can afford to dig and typically they refuse to share their water with their neighbors.
Through a generous donation, IGL was able to build a well in this village that reached 600 feet deep, allowing the people from this village and the surrounding villages access to clean, sanitary water. This is just one of the many stories of how the Lord has provided for the people of South Asia. With World Water Day celebrations soon approaching on March 22, will you please remember to pray for those without water? And, would you pray about helping one more village dig a well ($1250)?