Persecution Continues…
February 25th, 2015 by Kate Smith | 1 Comment | Posted in Field Updates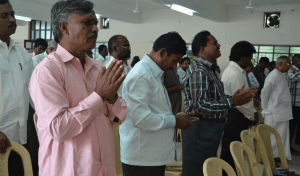 Despite Prime Minister Modi's promises that he would "ensure that there is complete freedom of faith and that everyone has the undeniable right to retain or adopt the religion of his or her choice without coercion or undue influence," persecution of Christians remains a problem and in some regions the violence has increased. Hindu radicals have continued their "reconversion" effort, attempting to coerce Christians and Muslims to revert back to Hinduism through promises of a higher caste level and threats.
Recently a mob of Hindu radicals attacked a prayer service in one of IGL's churches. The mob stormed into the church, beat the male members of the congregation, damaged furniture and destroyed the musical instruments. This is just one of many incidents of believers who are being threatened, beaten and sometimes even killed because they refuse to renounce their belief in Jesus.
"Pray in the Spirit at all times and on every occasion. Stay alert and be persistent in your prayers for all believers everywhere." (Ephesians 6:18, NLT)
Please invite your family and friends to join our prayer network to pray for the ministry in South Asia. Prayer is a powerful weapon and one of the best ways we can support our brothers and sisters as they experience the "fiery trials" of persecution.
"Beloved, do not be surprised at the fiery trial when it comes upon you to test you, as though something strange were happening to you. But rejoice insofar as you share Christ's sufferings, that you may also rejoice and be glad when his glory is revealed. If you are insulted for the name of Christ, you are blessed, because the Spirit of glory and of God rests upon you. But let none of you suffer as a murderer or a thief or an evildoer or as a meddler. Yet if anyone suffers as a Christian, let him not be ashamed, but let him glorify God in that name." (1 Peter 4:12-16, ESV)