Transforming Communities – One Life at a Time!
March 11th, 2015 by Kate Smith | | Posted in Encouraging Stories
While leading with the gospel is India Gospel League's main priority, the gospel also motivates us to address physical needs when we see "a brother or sister who is poorly clothed and lacking in daily food" (James 2:15). For example, a family of four in rural India earning $400 a year cannot afford even two meals a day. Our organization is passionate about helping people like this have a holistic transformation – from spiritual awakening to breaking the cycle of poverty. One of IGL's initiatives, Adopt-a-Village (AAV), accomplishes that.
IGL's AAV five-year program is initiated in villages where a church already exists so that resources and training are put in the hands of faithful pastors who can meet needs with an accountable, person-to-person approach. In this way, rather than just offering a temporary lift out of difficulty, we minister to villages in a way that creates permanent, sustainable transformation. Some of the provisions in the transformation include skills training, medical care, children's ministry, evangelism, nutrition and lifestyle training, women's ministry groups, clean water, housing upgrades, a Life Center and more.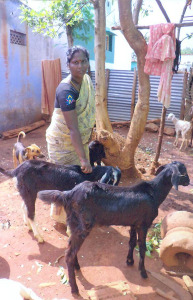 In a small village cluster in southern India with a population of 2,500, the average family income was $400 per year with no opportunities for further education or career advancement. Only 25 percent of the villagers were literate and health education was all but non-existent. Although there was one school in the village, the teacher to student ratio was disproportionate and the drop out rates were high, making it difficult for children to become properly educated.
Then IGL initiated the AAV program in the village cluster. Now four years later, we can happily say transformation has occurred and will continue as the program advances. Nearly 200 women have been given health education in topics like hygiene and disease prevention. Two Tailoring Skills Centers have been opened, teaching women skills they can use to help supplement their family income. So far four Evening Study Centers have been opened, providing 62 children with the opportunity to receive quality education; and 49 children are involved in IGL's discipleship program, Children's Gospel Clubs. The village has also started a Kitchen Garden Movement to teach women how to cultivate fresh vegetables to feed their family and even sell to other villagers.
This program has benefited 48 villages like this one and by God's grace will continue to transform many other communities in the coming years!