World Water Day 2015!
March 19th, 2015 by Kate Smith | | Posted in Encouraging Stories, Opportunities
What would you do with several extra hours every day?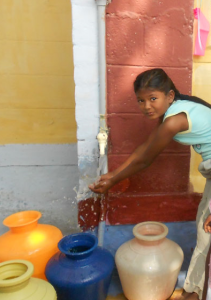 That is a question many rural Indian women would happily face if they had adequate access to clean water sources. Today, most women in rural India spend hours a day walking an average of 2 km (1.2 miles) to collect water for their household needs: cooking, cleaning, bathing, washing, waste disposal and more. Not to mention that "during the dry season [March to June] in rural India and Africa, 30% or more of a woman's daily energy intake is spent just in fetching water." According to the UN: "This is time not spent working at an income-generating job, caring for family or attending school."
If the 67 percent of households that do not have access to sanitation services and the 88 million who do not have access to safe water were able to have access to these things, the implications would go far beyond solving health issues. The women would be able to spend more time looking for and being trained for jobs to help supplement their household income, which in turn would help raise their families out of poverty.
A small village of 400 families in the Srikakulam region, severely struggled daily to collect sufficient drinking water because it is located in a very dry and remote area. The villagers are also struggling economically because there are limited jobs available. Earlier this month, however, they received a water well through IGL! This water well will richly benefit the families in this village by providing easier access to water and enabling women to devote time to skills training.
Will you consider changing the lives of people in rural India by giving a clean water well? #WorldWaterDay