Reaching Tender Hearts
June 11th, 2015 by Kate Smith | 1 Comment | Posted in Field Updates, Opportunities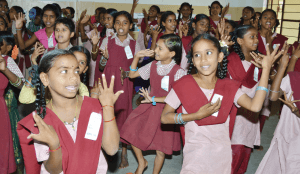 Earlier this year over 70,000 Children's Gospel Club teachers and leaders received extensive training and now look forward with eager expectation to see what the Lord will do in the lives of the children enrolled in the program. "We returned from [CGC training] with great confidence to reach many new tender hearts for our Almighty," Pastor Robin exclaimed.
In May, we began to see the Lord at work as IGL surpassed its goal to reach 700,000 children! More children means more club materials and IGL is currently printing 50,000 more sets in anticipation of the increased enrollment. Praise God!
Children attending clubs hear the gospel in a small group setting, sing Bible songs and see Bible stories come to life. At just $1 per child, it isn't difficult to imagine the direct impact you could have on countless children and their families. Would you like to help?