Educating the Downtrodden
Summer Quarterly Newsletter 2015
July 22nd, 2015 by Kate Smith | | Posted in Field Updates
India's education system has improved dramatically in recent decades – there is a 93 percent enrollment rate (up by nearly 13 percent in 15 years). More teachers have been hired, and school technology has been updated. But these statistics only tell a part of the story.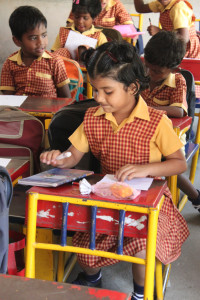 A recent survey by the Pratham Education Foundation of elementary students across India found that more than half of fifth graders cannot read a simple story from a second grade textbook with fluency, and half of second graders cannot read simple, everyday words. Nearly 75 percent of third graders cannot do two-digit subtraction and nearly 20 percent of second graders cannot recognize numbers one through nine.
The survey indicates that on any given day, 15 to 25 percent of teachers are absent. Furthermore, a teacher evaluation test in one of India's states revealed that only one percent of more than 245,800 elementary school teachers who took the test passed.
Without additional investments into the quality of their education, many of India's children will wind up in employment that barely pays enough to survive – continuing the vicious cycle of poverty that has negatively impacted so many lives in this part of the world.
IGL has rescued many children from this cycle of poverty by providing a safe place to live and a reliable education system. With more than 50 schools and hundreds of evening study centers across India, our teachers and tutors impacted more than 13,000 students last year. IGL's schools cover grades one through 12, teaching subjects like Tamil, English, Math, Science and Social Science. Throughout the academic year, June through March, house parents coach students in evening study centers, helping them finish their homework and understand difficult subjects.
IGL's outreach through local churches into communities has connected our ministry workers with hundreds of thousands of children. Many of these could use educational assistance, and many of our churches and pastors could utilize additional resources to bless the children in their villages. Would you like to help us grow our infrastructure to educate disadvantaged children? Would you like to help fund a church-based evening study center, day care, or provide for school supplies? And, if you'd like to make an even larger investment, you could help us build additional schools to serve children today and on into the future!
Please pray with IGL that God would allow us to make the most of these opportunities to influence the next generation.