Predestined for Adoption
August 12th, 2015 by Kate Smith | | Posted in Encouraging Stories, Field Updates
"Thank you so much for accepting me as your grandson. I am very happy for this. I thank God for this and I thank you also." – Jayram, 12 years old
Jayram, who lives in IGL's Bethel Home, recently wrote this sweet response to his American sponsors after they asked his permission to refer to him as their "adopted grandchild from India."
Kermit and Velda, child sponsors for eight years, have been sponsoring Jayram since September 2014. This couple has developed a heart of compassion for children in need and a great desire to see Kingdom work accomplished in India. They are setting a wonderful example of Christ's love by "adopting" this young seventh grader into their family through child sponsorship.
"In love he predestined us for adoption as sons through Jesus Christ, according to the purpose of his will, to the praise of his glorious grace, with which he has blessed us in the Beloved." Ephesians 1:5-6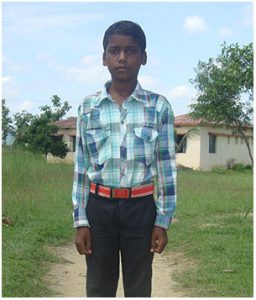 Adoption is one of the greatest privileges we have as followers of Jesus. Because of His death and resurrection we now have assurance, through no work or effort of our own, that we are forever adopted into God's family. Now no matter where we go and no matter what happens, we have a loving and powerful Father graciously looking out for us, caring for us and bringing us into a new life filled with peace, hope and joy – all so that God's name will be glorified and proclaimed throughout the world!
Though they may never meet each other face-to-face in this life, they will spend eternity together as adopted sons and daughters of God. For now, Jayram has the unique opportunity to build a relationship with Kermit and Velda through letters and pictures. Jayram has shared about simple things, like his love of science and playing cricket with friends. Jayram also shares deeper concerns, like the recent loss of his father and his desire for his mother to come to faith in the "one true living God."
Thank you, Kermit and Velda, and all of our child sponsors, for making a difference in the lives of children in South Asia and ultimately making an eternal impact in God's kingdom!