Lessons Learned in India
September 15th, 2015 by Guest | | Posted in Encouraging Stories
The news below was written by a guest writer, Kalie Brooks, who traveled to India in August as a part of India Gospel League's short term mission opportunities. Kalie is the author of the blog Pretend to be Poor. 
Last month my life-long dream of going on an international mission trip finally materialized.  About a year ago I was asked by a friend to join an IGL Women With a Mission (WWM) teaching team. I was nervous about traveling, overwhelmed at the logistics of childcare for my two young children, and unsure of how to prepare to teach conferences across the globe.  But I couldn't say no. God had prepared me for such a time as this, and He answered every obstacle I imagined with formidable grace. God also unveiled simple but beautiful principles I doubt I could have learned staying at home.
My first day at the conference the opening song left me blinking away tears. I didn't understand the meaning of the words. Back home singing worship isn't really my thing. But the women's zeal for praise rather than perfect pitch struck me as more beautiful than the best-tuned orchestra. Lesson one from my Indian sisters is that everything doesn't have to be perfect. How much time do I waste trying to make my house, clothing or children match the sleek, edited images of unrealistic advertisements? Upon return, I feel free to be my imperfect self and re-focus wasted energy on helping others.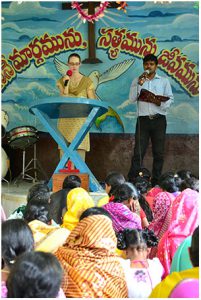 I also had the opportunity to teach at a village church. Right before I walked to the podium, the native pastor instructed the attendees, "God is going to speak to you today. Are you ready to listen?" A similar expectation was conveyed at the conferences, and struck me as so foundational, yet easily forgotten. In my church I can attend three or four Bible teachings a week, not to mention my unlimited access to podcasts. Somewhere amidst all this sermon saturation, I can lose my openness to God's personal communication. Lesson two is that God wants to speak to each of us.
I certainly wasn't the only one God was speaking to. The women at the conference testified about how God was using the messages to impact their lives and ministry. Some of them journey to remote mountain-top villages to share the love of Christ and the conference gave them the stamina to keep climbing mountains! Others face persecution from their families and received the encouragement to persevere in love. Many women proudly showed the notes they'd taken and expressed their excitement to share what they'd learned about God's character with non-believers and disciples back home. Their conviction motivated me to apply lesson three: don't just hear the Word, live it.
One of my teachings dealt with the topic of glory. God's glory can seem like such an abstract concept, but I found my Indian brothers and sisters were daily living a practical application: a great way to glorify God is to give Him the credit He deserves. If complimented or encouraged about their faith, ministry or personal qualities, the believers we met reflexively and sincerely answered, "All glory be to God." This refrain punctuated our trip. Too often I secretly believe my natural abilities or hard work are the real source of any success I encounter. But what do I have that I have not received?
I thought traveling to another culture and teaching hundreds through a translator would be a big new way to trust God. But an analysis of my prayers during the trip reveals I also trusted God in smaller ways than I normally do. I prayed for minutia like staying awake through the heat, and good curry digestion. We also saw God answer year-long prayers for clear communication with the translators, and for the women to be encouraged by the messages we prepared months beforehand. Lesson five: pray big & pray small. If you believe in a big God, it's all small to Him. Now I'm learning to pray through my day rather than thinking I've got the routine tasks handled on my own power.
I've only scratched the surface of the life-changing, faith-building truths God revealed through this trip. The women of WWM will never again be only pictures in a newsletter to me.  The child I sponsor is no longer a foreign name I can't pronounce. India is now so much more to me than a shape on the map. And I am more than a Christian mom and church volunteer. This mission trip gave me a mission that extends far beyond those two foreign, fun-filled weeks. I know God will continue using it in my life and the lives of the women I met. All glory be to God!