Celebrating 20 Years!
Fall Quarterly Newsletter 2015
September 24th, 2015 by Kate Smith | | Posted in Field Updates, Opportunities
Without the support of fellow believers, the challenges faced day in and day out can leave those on the front lines of the spiritual battlefield ready to crumble under the weight of persecution, loneliness and uncertainty. Yet, together, believers can encourage each other and "stir one another to love and good works," so they do not become weary and forsake the Lord's calling.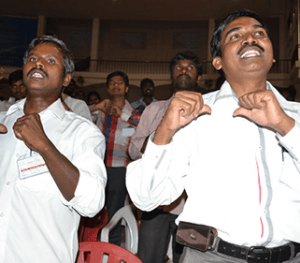 Twenty years ago the Lord gave this vision to a small group of church leaders in South India: to unite in their efforts to reach the lost throughout India, "for the body does not consist of one member but of many" (1 Corinthians 12:14). Thus, the Non-denominational Association of Interdependent Churches (NAIC) was formed, providing a platform where pastors can share skills, experience and knowledge with each other, as well as an opportunity for further training, equipping and fellowship.
Since then the network has grown from 300 pastors overseeing 5,000 churches to include 7,000 pastors overseeing more than 35,000 churches, planted in some of the least-reached regions of South Asia. In addition to the many regional and state conferences held throughout the year, a large national conference is held annually at India Gospel League's Sharon Gardens Mission Base. While all pastors are encouraged to attend, participation is based on the funding available to support the event, since most pastors cannot afford the travel, accommodations or food costs necessary to attend the conference.
Will you prayerfully consider contributing $55 for one pastor to attend the 20th Anniversary NAIC Conference & Celebration? Please visit our website to find out more.