From Suicide to Freedom
Fall Quarterly Newsletter 2015
September 24th, 2015 by Kate Smith | | Posted in Encouraging Stories, Opportunities
Attending a Bible based conference is usually inspiring for most people, helping them reconnect with God's vision for their lives and the lives of those they are impacting. While some may come in need of encouragement and fellowship, most don't arrive with thoughts of suicide and extreme depression, like Tejaswimi.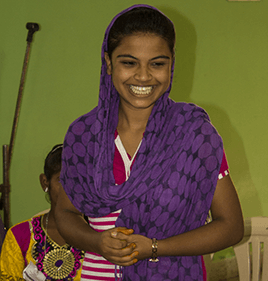 Tejaswimi, although only 20, has already experienced many hardships. When she was young her father left their family but still carried a personal vendetta against his ex-wife and children, attempting to kill them on several occasions. After meeting Jesus as her Savior in the fifth grade, Tejaswimi and her mother began telling others in the village about the redeeming power of Jesus Christ and many came to saving faith in the Lord. All the while, however, Tejaswimi's father continued to persecute her family, once even attempting to burn them to death.
Because of her father's behavior, and in spite of being used mightily by the Lord to bring others in her village to faith, Tejaswimi became very depressed and attempted suicide several times. It was during this dark time that a friend invited her to a Women With a Mission (WWM) conference. She decided to attend the conference to please her friend and afterward end her life.
Little did she know, the Lord was going to use this conference to heal and comfort her! One particular teaching on Satan's attempts to discourage believers through accusation and condemnation was especially impactful."This testimony changed my mind. God has taken the thought of suicide away from me!" Tejaswimi rejoiced after hearing that message.
Tejaswimi left the conference renewed and excited to continue sharing the gospel message with everyone who will listen. If you would like to help more women like Tejaswimi attend WWM conferences, please go to our website.