One Woman's Vision; One Church's Impact
Fall Quarterly Newsletter 2015
September 24th, 2015 by Kate Smith | | Posted in Encouraging Stories
"It wasn't because of a brochure we received or a speaker that visited us, it was because one of our own had a vision for the nationals there and a heart for the work there."
– Pastor Spiller, Portland Congregational Church, Portland, NY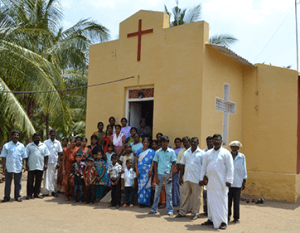 Many years ago, while Pastor Paul in Tamil Nadu was praying desperately for more space to serve his growing village congregation, God gave Ruth, a woman living thousands of miles away in Western New York, a vision to raise money for indigenous church planters in India.
"Because of what we saw of Ruth's vision, we knew we needed to get behind her," said Pastor Spiller.
And Ruth's small country church truly did get behind her vision for helping indigenous believers carry forth the gospel message in India. By 1999, Ruth had raised enough prayer and financial support to build a Life Center in a tiny rural village, igniting her congregation's passion for missions.
In the last 16 years, the two churches, both from farming communities, have had a profound impact on each other. Seeing the tangible, permanent impact their gift had on Pastor Paul's village ministry radically changed Portland Congregational Church into a mission-oriented church. Once supporting just two missionaries twenty years ago they now need 50 pages to detail their annual mission projects!
Meanwhile, in Tamil Nadu, Pastor Paul's congregation is thriving since receiving the stability a church building provides, growing from one small church to six churches serving 268 believers! And Portland Congregational Church continues to partner with Pastor Paul through prayer and by providing his growing ministry with equipment and discipleship materials.
"By the grace of God, our church has been growing both numerically and spiritually since the church construction. The church building is helping us to draw closer in the loving knowledge of our Lord Jesus," said Pastor Paul, as the building is used for Sunday services, prayer meetings, women's Bible studies, Children's Gospel Clubs and more!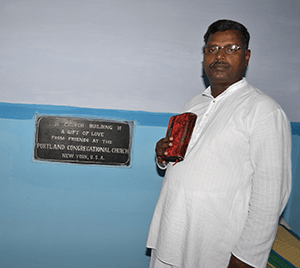 To this day, a picture of the Life Center, dedicated 16 years ago, hangs in the sanctuary of Portland Congregational Church as a reminder of what God can accomplish through them. While Portland Congregational Church and their sister church in India may not share a language, they do share a deep love for the Lord and advancing His Kingdom to those who have yet to hear the gospel message. And one day the believers from both churches will be united in a glorious celebration in the throne room of our King!
Thank you, Portland Congregational Church, for getting behind Ruth's vision to help advance the Kingdom and for your continued support! And thank you to all who partner with IGL to expand God's reach across South Asia!
*The specific village location or name of the church in India has not been provided for security reasons.