Celebrating 20 Years!
October 2nd, 2015 by Kate Smith | | Posted in Field Updates, Opportunities
Two decades ago, an historic event took place. The Non-Denominational Association of Interdependent Churches (NAIC) was formed to give hundreds of newly established indigenous churches a voice, to establish a national identity, and to help them become sustainable through leadership development, strong Scriptural foundation and strategic multiplication efforts. Growing from 300 then to 7,000 today, pastors have committed their lives and their preaching to the gospel. And at the annual conference in November, many will gather together to be reminded of that commitment and re-ignited in their passion for God's mission.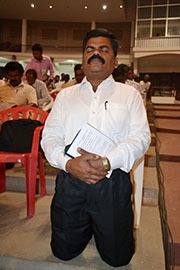 This year's theme is a reflection of the last 20 years: "Embracing the Vision." The theme this year is based on Acts 26:19, in which Luke records the Apostle Paul's affirmation before Agrippa, topics include the call to faithfulness, the call to persevere and the call to transformation among many others. Our hope is this teaching will inspire pastors across South Asia who have been committed to the vision like Paul and have helped the NAIC network grow from 5,000 churches to 35,000 churches in 20 years!
One pastor recently attended a regional conference and left with a renewed sense of peace and commitment to the Lord's work in his village. Here is his testimony:
"I thank God that He brought me to this [conference]. During prayer time I encountered God's presence afresh and was filled with the Spirit. I felt a great renewal from my heart and divine peace filled my mind. I prayed a prayer of commitment saying that I will continually seek and long for God's manifest presence in my life and for my church."
As it was for this pastor, conferences are often a great time of encouragement and re-commitment. While hundreds of regional conferences occur monthly throughout the year, this special 20th anniversary national conference will be held on November 10-13. Many village pastors, however, cannot afford the travel, lodging and conference fees. Would you consider helping one or more pastors attend the NAIC conference so they can be encouraged and equipped with the Word of God?