Are Christians Strange?
October 16th, 2015 by IGL Admin | | Posted in Mission Conversations
Has a friend or family member teased you about the Christian songs you sing or about how you pray? Sometimes our culture thinks those who follow Jesus are strange. Believers praying together, singing worship songs together and even living a moral lifestyle based on Christian values can seem funny, strange or even pitiful to some. And we are called to be counter cultural (Titus 2:11-14), but the question is: How will we respond when we are ridiculed because of Christ?
In South Asian culture, Christians are viewed much the same: strange and sometimes even out-of-touch with reality. But when Christians remain faithful to the Lord amidst slander, there is opportunity for changed lives. For Geeta, what she viewed as funny words and silly rituals, eventually changed her entire view of Christ.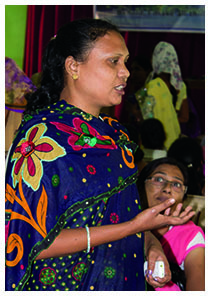 "I had a bad view of Jesus. I thought he was just something silly that people placed their hope in. Someone told me that they were having a [prayer meeting]. And they invited me to [attend]. I thought that a prayer group was like getting together to sing the national anthem or something. But then I showed up and it was not at all like what I expected. While I was attending the prayer, everyone kept saying 'Hallelujah.' I thought that sounded so funny. So I sat in the back giggling to myself. I wanted to go back to the prayer meeting because I found it so funny. The next [prayer] meeting was one month away, and I was waiting for that Friday with excitement so that I could go and have a good laugh. When I went they kept saying 'Hallelujah' a lot. And as I was sitting there, I wasn't laughing anymore. I saw people crying and rejoicing as they prayed to the Lord. I wondered why they were doing this. I thought, 'These people are getting together to pray for the whole world, and even us.' After that [prayer meeting], I went home and told my husband that those Christian people are very good because they are praying for us. So I told my husband, 'Let us go and accept Jesus Christ.'"
Geeta's mockery did not deter the church women from praying for her. Instead they continued inviting Geeta to witness their personal relationship with their Lord, Creator and Redeemer. The good behavior of these women put Geeta to shame, as Peter says. Eventually, she could not resist the powerful witness of the believers in the prayer meeting and invited the Lord into her life. How will your good behavior in Christ persuade others to accept Him?
"But even if you should suffer for righteousness' sake, you will be blessed. Have no fear of them, nor be troubled, but in your hearts honor Christ the Lord as holy, always being prepared to make a defense to anyone who asks you for a reason for the hope that is in you; yet do it with gentleness and respect, having a good conscience, so that, when you are slandered, those who revile your good behavior in Christ may be put to shame." (1 Peter 3:14-16)