Nepal Relief Update – Six Months Later
October 22nd, 2015 by Kate Smith | | Posted in Field Updates
IGL'S OUTREACH IN NEPAL
Thank God for His mighty works in Nepal! After the devastating earthquake in April, the people of Nepal were in great need of both spiritual and physical support. In addition to providing immediate relief with rice, blankets and other necessities, IGL initiated a new Vision 2000 region. Overall things are slowly improving, though at the moment the country has a great fuel crisis.
Initiation of Vision 2000 Region and Monthly Regional Meetings:
The Vision 2000 movement was initiated in the Bharamanagar region of Nepal in July 2015. In this region nearly 50 members are associated with the NAIC and Vision 2000. Twenty of the 50 are leaders of churches in Nepal. Monthly meetings have been conducted in this region since July 2015. The pastors and the leaders are happy to have a fellowship and they really love the Lord. IGL Field Pastors witnessed them praying and worshiping the Lord, and it caused them to glorify the Lord. The worship was led by young sisters and brothers of the church in Bharamanagar. It was really wonderful to see them praising our Lord.
TESTIMONIES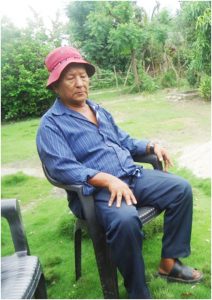 Ash from Bharamanagar:
"I'm very happy and thank God that Vision 2000 has a heart to support the churches in Nepal and they started it from our village. The meeting that we attended was really a blessing for us. I was in the Indian Military in Assam. While I was traveling to Delhi, I came to know about Christ and accepted Him as my personal Savior. I resigned my job from the Indian Military and came to my village in Nepal in 1972. When I reached my village I found out that there is not a single Christian in my village. I decided to fulfill the will of Christ and started to preach the Good News to every door in my village and also to other villages in the Bharamanagar Region. God enabled me to plant churches and train a few believers to take care of the churches. Now there are more than 50 servants of God in this region and thousands of believers. In my fellowship there are about 40 to 50 families who come together every week for the church service."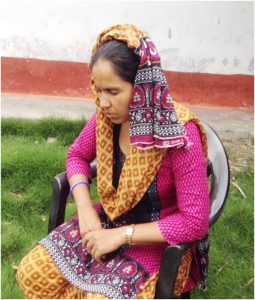 Tabitha from Bharamanagar:
Sister Tabitha is a pastor and has about 50 believers in her fellowship. She has committed her life to fulfill the will of our Lord. She has not married and decided to do his ministry. We were astonished when we heard her testimony which was shared with us by Pastor David. We praised God for the testimony.
Once she was a member in Maoist* and had killed many. But Sister Tabitha was a believer and invited Pr. David to a prayer for her sister, Kavitha, who was possessed by an evil spirit. She covered her face with a black cloth. There was a great battle. Pr. David was so afraid to talk to her, but she sat and listened to the word of God. He shared the love of Christ with her and she accepted Christ as her personal Savior. Thus, her life was transformed and she started to live a new life with Jesus.
*a violent, communist rebel group
CONFERENCES
Participation of Nepal Youth at the Y-21 State Leaders Conference in Bihar:
Eight young leaders from the newly started Bharamanagar region of Nepal had a chance to participate in the state level youth conference conducted in Bihar, in August.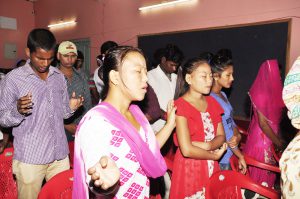 Conference Feedback from the Nepal Youth:
Pujan from Nepal
"I am really blessed through this meeting, the theme, 'Behold I make all things new' built up my faith in Christ and encouraged me to do something new for my Lord Jesus Christ. Though I am helping my pastor in worship and other activities in my local church, I have decided to bring more new souls in Christ and help youths to know Christ and grow in Him. Please pray that God may use me as a useful instrument in His hands and to bring many young people to Christ in Nepal."
Participation of Nepal Women Leaders at the Women's Conference in Bihar:
Ten women from the newly initiated Bharmanagar region of Nepal had a chance to attend the WWM State Leaders conference held in Bihar, in September. It was a great joy that all of them committed to serve the Lord along with WWM. All of them committed their lives to reach Nepal for the glory of the Lord.
Pastor Ram's wife, Myya, shared that this is the first time in her life that she had attended these kind of meetings and it really changed her life, and surely this is a new beginning in her life because of the commitment they made to the Lord.
Conference Feedback from Nepal Women: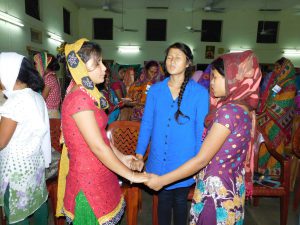 Nani from Bharmanagar, Nepal
"I was really felt blessed to attend this meeting. As the Lord has promised that He will make all thing new; I believe in it and will move forward in fulfilling His will in and through my life. I'll be helping our church pastor in ministry and will work among the women of my village to build a strong community for our Lord Jesus. In the next one year I will work among the women in our region and will evangelize 10 women. This meeting inspired and equipped me to inspire and equip others for our Lord's Kingdom."
Binu from Bharamanagar, Nepal
"I believe that it is not because of my willingness or because my pastor send me; but it is God who brought me here to this conference and talked to me through His words. God spoke to me strongly and has called me to fulfill His will. Therefore, I commit myself to the will of God and that to be done through WWM. I'll not waste my time but invest my time for other so that they too may be a child of God and be part of His kingdom."
NOTE: The last names and specific locations have been removed for the protection of the believers and pastors.