"God's Ways Are Different than Man's Ways"
February 2nd, 2016 by Kate Smith | | Posted in Encouraging Stories, Field Updates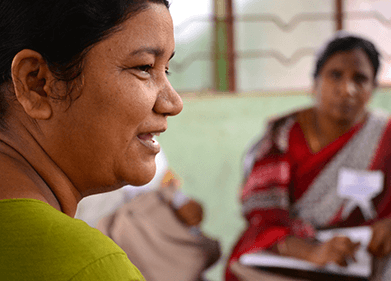 Have you ever had a dream or goal for your life that God completely rearranged?
Susheela grew up as a pastor's kid. Her father had grown up in a high caste* family but his parents kicked him out when he became a believer. He married a godly woman and together they gave their lives to the ministry, which often went hand-in-hand with being poor.
"As I grew up I decided that I did not want to be a pastor's wife because I did not want to live a poor life like a pastor does. I did not want the life my parents had. I became educated to ensure this didn't happen," said Susheela as she reflected on her dreams of wealth and stability.
Susheela tried her best to take a different path than her parents. But, as she acknowledged much later, "God's ways are different than man's [ways]." God had something different in mind for Susheela.
One day, a young pastor asked for her hand in marriage. She knew that if she accepted, her life would be marked by poverty – the very thing she had been working so hard to escape. Her father asked her to take three days to think it over and pray about the decision. While she was fasting and praying, the Lord gave her a vision.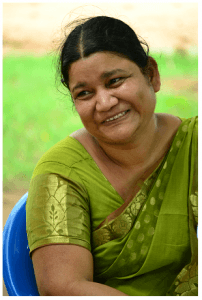 "On the one side there was a desert with three steps leading up to it. He said 'you need to take the steps and you have to walk'. On the other side it was complete darkness. He said 'there are many people in the darkness and you need to go and reach them'."
God called Susheela to give up her dreams of career, wealth and comfort. He wanted to give her a life that was so much better than she could ever make for herself. She shared her vision with her father and he asked her to follow the Lord's leading and make God's dreams for her life a reality. And so she did!
"Now we serve in three churches. In one church we have 75 members, with 30 and 35 members in the others. My grandparents have also, since seeing our ministry, received Jesus. And my aunt has as well…my whole family has accepted Jesus. Now they are all living God's witness."
Susheela's decision to give up her own dreams to follow God's vision for her life has radically changed her whole family. Her willingness to follow God's vision has brought many into an eternal relationship with the Savior and Redeemer.
Is God rearranging your dreams to fit his own plan for your life? What has been the impact? Let us know with the #NoSmallPlans hashtag on Facebook and Twitter.
*The caste system is a social class structure determined by birth. The structure determines the pecking-order that bears some similarity to racism, but the roots go deeper because they are religious. People born into the lower caste are treated with humiliation and degradation. On the other hand, people born into the high caste are treated with respect, admiration and, in some cases, as royalty.