CGC: Record-Breaking Attendance
Winter Quarterly Newsletter 2016
February 5th, 2016 by Kate Smith | | Posted in Field Updates
In June of 2015, IGL joyfully announced the need to expand the CGC program. There were so many children who wanted to join a club that we exceeded our initial goal (discipling 700,000 children), and ended up enrolling 750,000! That means 50,000 more children than anticipated were able to learn about Jesus, memorize Scriptures, hear Bible stories, sing, pray and fellowship together.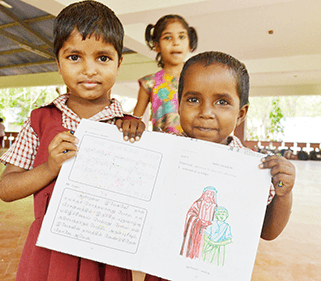 Currently, our India-based staff are hard at work preparing lessons for the upcoming 2016 Children's Gospel Clubs. Soon our printers will be working hard to produce enough materials for the 800,000 children expected to attend this year's CGC ministry.  Our near-term goal is to see this number climb to over one million children per year, discipled to walk with Christ.
This spring, young leaders will gather for training to lead CGCs. They will learn different teaching methods, become familiar with the 2016 theme (Embracing the Vision) and familiarize themselves with the CGC materials. Please pray with us that the training process would go smoothly, as we aim to train more than 80,000 leaders for this ministry!
2016 CGC Goals:
Children enrolled: 800,000
Teachers and leaders trained: 82,000+
Clubs formed: 15,000+