Children's Ministry Update
December 2015
February 25th, 2016 by Becky Stanley | 2 Comments | Posted in Field Updates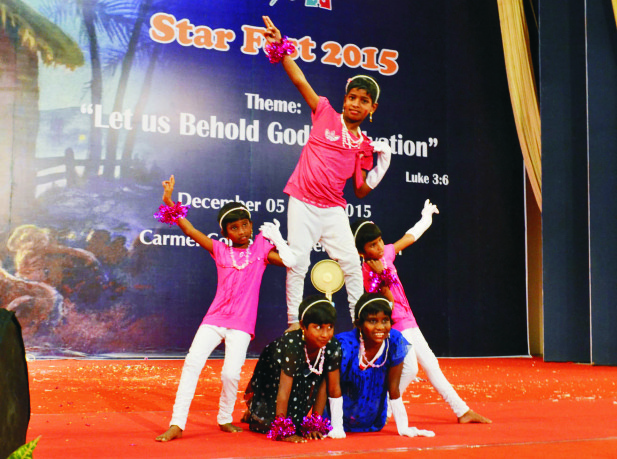 Christmas 2015: A time to share and love
Christmas is the most anticipated time of year for children in IGL Children's Homes. It is a time to share, a time to love as God loves us, a time to learn the very purpose of Christ's birth, a time to have fellowship and rejoice. The Christmas celebration commenced with Star Fest, words which bring joy to the children's hearts. Star Fest is a special two-day annual Christmas event for the children. This year this program was held on December 5 and 6 at the Carmel Conference Center, Salem, and was attended by nearly 800 children. The theme for this year's Star Fest was prayerfully chosen from Luke 3:6: "Let us behold God's salvation."
This event is not just a celebration but also a platform for children to exhibit their talents for the glory of the Lord. The children competed with one another performing dances, skits and songs. There were also drawing, speech and quiz competitions. The children participated in special devotions along with a time of praise and worship. Pastor David Vincent, an evangelist who grew up in one of the IGL children's homes, has a powerful ministry among children and was the chief guest for this year's Star Fest. He and his team made Star Fest an enjoyable learning and growing experience. He conveyed thoughtful messages through skits, puppet shows and entertaining magic shows. Many testified that they experienced the presence of God in their lives and committed themselves to Christ.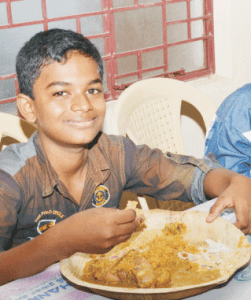 At the close of the event, a special Christmas banquet was held and prizes were distributed to those who won the competitions.
Following Star Fest, each IGL children's home organized their own Christmas celebrations since most of the children belong to Hindu families and will not have a chance to celebrate Christmas with their parents during their holidays. On the day of the Christmas celebrations all the children participated in the various programs and made the occasion joyous. They exhibited their talents before their family, friends and the people from the village. Then the pastor shared the gospel message to everyone present. It was a great opportunity for the children to glorify God, share God's love and the purpose of his birth to everyone present. And like every Christmas, with the help of the child sponsors, IGL served a special meal to the children. The special meal consisted of Briyani (rice and meat cooked with spices), Onion Raitha (onion and cucumber in yogurt) and an Indian dessert (milk-based sweet). For children in IGL daycare centers and after school program in the village, school bags were handed out as Christmas gifts. God provided the resources to distribute 3,750 school bags this year.
We praise God for the opportunity to touch and transform the lives of these little ones with God's love, especially at Christmas.
Testimony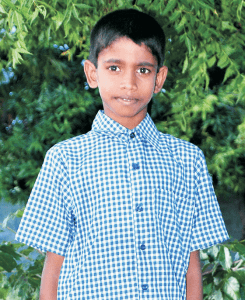 Barath, age 12, lives in one of IGL's Children's Homes. When his father abandoned the family, his mother, a daily wage laborer, could not afford their basic necessities, let alone provide for his education. So his mother admitted Barath to an IGL Children's Home. Now he is able to continue his education in a good school.
In addition to educating Barath, IGL provides him with food, clothing and, most importantly, an opportunity to learn about Jesus Christ and commit his life to him. At Star Fest, he participated in the memory verse competition. But he was anxious, so he prayed and asked for God's help. God gave him the confidence and memory power to recite the maximum number of verses for the competition, and he won the 2nd place prize in the memory verse competition! And his faith grew. He shared this testimony with his family and friends and thanked God for helping him to win 2nd place in the competition.
Praise Points
Praise God for his goodness, grace and for his provision in all the IGL homes.
Praise God for his guidance in the Star Fest and Christmas celebrations.
Praise God for his care in protecting the children from sickness.
Prayer Points
Pray for God's grace and blessing in this New Year.
Pray for God's guidance for all the programs organized for the children.
Please pray for the children's good health and protection.
Please pray that the children will gain knowledge and wisdom.
Please pray that the children will be rooted in Christ's love.
Please pray for resources to carry out the children's ministry effectively.