#WorldWaterDay
March 18th, 2016 by Kate Smith | 2 Comments | Posted in Field Updates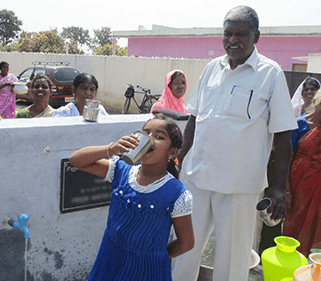 "We received it freely, so we will be supplying it freely. May the name of the Lord be glorified!" proclaimed Pastor Paul during the dedication of a clean water well in his village.
Previously, the villagers had to walk almost two miles (one way!) to the nearest reserve of safe water to obtain a day's supply for drinking, cooking and cleaning. Because the well was so far away, gathering enough water for bathing was nearly impossible.
Thankfully, Pastor Paul's village of 1,500 households received a much needed water well through India Gospel League. Now Pastor Paul and his congregation are excited to share this free gift of water with their community so that the Lord's name will be glorified. As Jesus said,
"Whoever believes in me, as the Scripture has said, 'Out of his heart will flow rivers of living water.'" John 7:38
Today there are 77 million people living in villages in India in the same position as Pastor Paul's village was – without easy access to clean water. But you can help change that by donating to toward a clean water well that will go to a village in need.
In addition to reducing the spread and occurrence of diseases and the two mile trek, a clean water well provides believers with the opportunity to talk about the gift of "living water" that Jesus offers that will be eternally satisfying, as the believers in Pastor Paul's village have done.
Will you help change lives in rural India by giving toward a clean water well today? #WorldWaterDay One water well will only cost $1,250. Visit our website to donate and learn more about clean water wells.