God's Word in the hands of new believers!
April 8th, 2016 by Kate Smith | | Posted in Field Updates, Opportunities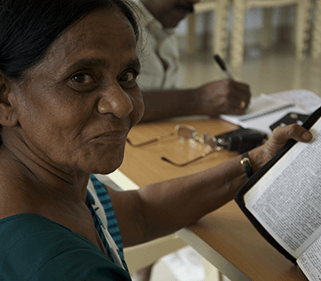 Have you ever noticed how easy it is to obtain a Bible in the U.S.A.? They are everywhere! Owning your first Bible is as simple as stopping by the local bookstore or purchasing one online from the comfort of your couch. There are numerous Bible apps available to download to your phone and you can still find a Bible in almost every hotel room you visit.
As a new believer living in a remote village in India, however, finding a Bible, especially one in your own language, is nearly impossible. At the present time, we estimate only three percent of believers in South Asia have their own copy of God's Word. Imagine how difficult it would be to satisfy the deep spiritual hunger in your soul without a Bible!
At India Gospel League, we are striving to put God's Word into the hands of new believers in South Asia. And this spring we are making a special effort so they too can enjoy the privilege of knowing God more deeply. A Bible in their own language will allow them to study and meditate on the words of Jesus, read the letters of Paul, draw lessons from the history of God's people, share wisdom from the Proverbs with their children and pray along with the Psalmists. Most importantly, we want to help new believers build a firm foundation in their faith in Jesus Christ so that they are able to stand against the schemes of the enemy who wants them to fall back into their old, deeply rooted, superstitious practices. In the Lord they can be victorious, but to do so, God's Word will need to become engraved on their hearts!
"Recently, I was visiting a village.  Many residents in that village had come to Jesus Christ as a result of our ministry. I found something very remarkable among them. These new Christians had memorized entire passages from the Scripture. Yet, none of them owned a whole Bible for their own. I found among them one tattered and torn New Testament. That was the only portion of Scripture that they had. It was really worn out because many of them had passed it from one house to another. In the evenings they would come together and someone would read it aloud to them and they would all gather together and listen to it… I took it upon myself to promise one Bible for every believer." – a pastor from central India
Our goal is to place a Bible into the hands of 5,000 grateful believers this year, for an average cost of just $3.50* per Bible. It's exciting to imagine how one copy will impact not only that individual, but his or her family and perhaps an entire community! Would you like to share God's Word – literally – with a villager on the other side of the world?
*This Bible does not include a study guide and notes, and as such is less than the $5 Bible offered in our Gift Catalog.