Children's Ministry Update
January to March 2016
May 4th, 2016 by Becky Stanley | | Posted in Field Updates

Superintendents' Annual Meeting
Once a year superintendents from all of IGL Children's Homes gather for a time of review, planning and prayer. On January 30, 15 superintendents from different regions in India gathered for the annual meeting to share both their experiences and updates from each home.
One highlight of praise and thanksgiving was that many children had not only come to faith in Jesus but were now witnesses to their families! Another highlight was that many who graduated high school from IGL homes are now pursuing higher education.
Superintendents also took the opportunity to pray together for the following: government approvals that are still pending for this year; increased scrutiny by the government of IGL run Christian schools; the children's health and development; and that God would bring dedicated house parents to work with the children.
Testimony
I am Ebinezer from Mercy Home. I joined Mercy Home on June 3, 2007 when I was in the 8th grade. Currently I am finishing my undergraduate in English literature. I lived at the Mercy home for nine years and enjoyed life in the home. It was a great opportunity for me to develop myself academically, physically and spiritually. I learned many things and developed good friendships here. Above all I came to know about the Lord Jesus here. I thank God for the opportunity to be here and for the Christian upbringing.

I accepted Jesus as my personal savior and was baptized on Dec 31, 2014, by Pastor James, our home superintendent. I have received God's call to ministry and, upon completion of my undergraduate studies, I plan on joining a seminary for theological training. Please pray for me.
Easter Celebrations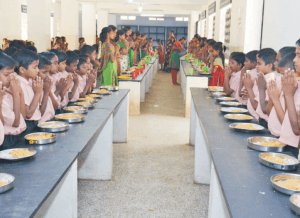 During lent, the children and staff in the homes attended weekly services and Bible studies reflecting on the passion of Christ. Children were taught about the sacrifice of our Savior Jesus Christ. The children spent time in prayer with some committing their lives to Christ. In preparation for the Easter service, children had fun decorating the church.
On the Easter Sunday all the children wore new outfits and attended the Easter service. After a time of worship, all the children participated in special Easter programs and enjoyed a special Easter lunch of mutton biriyani, chicken gravy, egg and sweets. Children at the Sharon Home were provided with three special meals as a result of generous gifts provided by Kampong Kapor Methodist Church, Singapore.
Testimony
Jayaraman, 6th grade, lives at the Bethel Home with his younger brother. He was raised in a Hindu family. His father is a daily wage laborer and his mother passed away. They were living in a small rented house without basics facilities. It was very hard for them have even one good meal a day. Because his father could not meet their physical needs, Jayaraman and his younger brother were admitted into the Bethel Home.

After joining the home he came to know about Jesus and his love. Slowly he accepted Jesus as his personal Savior. Then he learned to pray. One day his father fell sick. He had received some medical treatment but was not completely cured. Though Jayaraman and his brother were very sad, they didn't lose hope. He and his brother along with his friends prayed for his father and God healed his father completely! That made them happy and helped them to have more faith in God. Now he is praying that his father would know and accept Christ's love. Praise the Lord!
Praise Points
Praise God for his grace and protection over every child and staff member.
Praise God for his wisdom and knowledge that helped the children prepare and do well on their board and final exams.
Praise God for Y21 youth program that touched the lives of 15 youths who attended this program.
Prayer Points
Please pray for the 10th and 12th grade students in all the homes as they have taken their board exams and are waiting for the results.
Please pray for the CGC program, which will be conducted for the children all over India and Sri Lanka, to reach more children this year and transform their lives.
Please pray for the leadership training for the youth, which will be conducted in May.
Please pray that all the children in the homes will be promoted to the next grade.