A Special Tribute to Jabez
May 13th, 2016 by Kate Smith | 1 Comment | Posted in Field Updates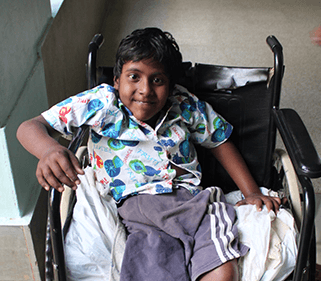 On May 1, 2016, the world lost a young, but great evangelist and prayer warrior – Jabez. Many visitors to the Sharon Gardens Mission Base in Salem Tamilnadu, home to Sharon Hospital, will remember this young boy, cheerfully greeting the patients and visitors alike. Often Jabez could be found praying for and sharing the gospel with the patients seeking treatment at Sharon Hospital.
Jabez's life had been difficult from the start: abandoned at Sharon Gardens as a baby and later diagnosed with both cerebral palsy and spina bifida. Despite undergoing several surgeries, Jabez was confined to a wheelchair for the remainder of his life.
But his physical limitations did not stifle his joy and capacity to impact others for the Kingdom of God. Jabez touched the lives of countless individuals, including the Stephens' family. Below, Rev. Stephens reflects on the impact Jabez had on him personally.
---
"I vividly remember the evening in February 2003. Our family was having dinner when one of the caretakers on campus notified us that a child was left beside the bushes at the gate to Sharon Gardens. The caretaker saw a man leave a bundle beside the entrance and run away. When he approached the bundle, the worker was shocked to find a new born baby wrapped in rags.
"We gathered together and prayed over the child. Soon, we discovered that he had a serious medical condition. Perhaps the family was unable to afford his care and this is why they chose to abandon him. We brought him under our care, and my wife, Prati, decided to name him Jabez.
"One never understands the human capacity to love until God puts you through some unique situations. As far as we were concerned, this baby was going to become a part of our extended family, and we were going to do whatever we could, with God's help, to be a blessing to him.
"But it didn't take too long for us to discover that God had really intended it to be the other way around. This child turned out to be an amazing blessing to everyone and in more ways than we could have ever imagined.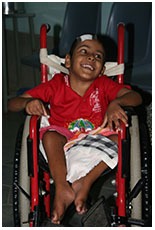 "Jabez lived and grew up in Sharon Hospital due to the challenges presented by his medical condition. From the time he could talk and move around in a wheelchair by himself, he continually witnessed to and prayed for patients, staff and doctors. There wasn't a single person who came to the hospital who wasn't touched by the words, prayer and witness of this young life. His exuberant joy was both contagious and unforgettable. In the brief 14 years of his life, God used Jabez to leave a lasting impression on hundreds of lives. Jabez has been a great blessing to me and my family. Far more than we could have been to him.
"I have often prayed that my faith would become as strong, wide and deep as his, for Jabez always believed after every prayer that someday he was going to get out of his wheelchair and walk as any normal child. God used Jabez to show me what childlike faith truly is and how powerfully he can use it, perhaps not in ways we may expect but in divinely ordained ways – to bless others and for his eternal purposes. Every life is precious in the eyes of the Creator.
"Jabez taught us all at Sharon one great lesson. It is simple yet profound. It is often ignored. This is the lesson: God has placed a divine seed in every human heart that, when exercised well, always produces the capacity and space to love others.
"The day before I left home on my current travels, I had the privilege of praying with and for Jabez. When we finished, Jabez reminded me that I forgot to pray for his healing. So I prayed again. After I did, Jabez asked me when he would be able to walk. I replied as I always did, "Very soon, Jabez." I didn't realize then, it would be so soon, leaving such a huge void in our lives.
"If Jabez had lived longer we would have only loved him more. Yet, God loves him far more than we ever could, and we know beyond a shadow of a doubt that Jabez is now walking, jumping, dancing and rejoicing in God's presence!"
Rev. Samuel Stephens
President, India Gospel League