Transforming Power of God's Word
May 24th, 2016 by Kate Smith | | Posted in Opportunities
"Do not conform to the pattern of this world, but be transformed by the renewing of your mind…"  Romans 12:2
At India Gospel League we know that 5,000 Bibles is not just a number, but represents 5,000 individuals, families and even whole villages whose lives may be supernaturally changed by reading the Word of God. And because many of you already responded, we have reached 67 percent of our goal so far and recently distributed over 3,000 Bibles to new believers! We are eager to deliver more – will you prayerfully consider helping us reach the full 5,000?
---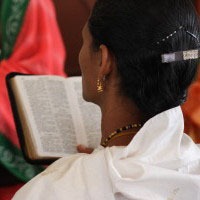 Bible without Study Guide Notes
For the average villager in India, the cost to purchase a Bible is equal to three days' wages. Your gift will supply new believers with worship tools in their native language, which we often take for granted.
$3.50
Choose a quantity.
Give Now
---
---
Testimonies of changed lives:
Kulwinder grew up with a Hindu priest for a father. One day his father became sick and was found dead in his temple. Kulwinder was shocked. He couldn't understand why their gods had not saved his father. So he went in search of the real God. Finally, he found the One True God through the Bible in John 3:16. His life was forever changed.
Sarashwathi was raised in a Hindu family and did not believe Jesus is God. Then one day the local pastor in her village met her and shared God's love with her. As she listened to the Word of God she was touched by Jesus' life. She started attending church regularly and eventually asked for the Lord's forgiveness and for him to be her Savior.
Mathappan was a staunch believer in the Hindu faith. He even became a priest and was outspoken against all other faiths. Then, during a discussion with a local Christian pastor, he found out about Christ's offer of redemption. Mathappan was so intrigued by Jesus' offer that he started investigating the Bible. Soon enough he accept Jesus as his Savior and became vocal about his faith in Jesus as the True God. Many have been persuaded by the change in Mathappan's life and have also come to faith in Jesus.