CGCs Hit Enrollment Goal of 800,000 Kids!
June 7th, 2016 by Kate Smith | | Posted in Field Updates, Opportunities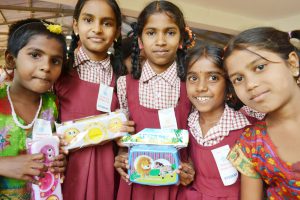 Children's Gospel Clubs have begun, and are already bursting at the seams with 800,000 children enrolled and more requesting to be a part of the clubs every day.
Children's Gospel Clubs or CGCs (India Gospel League's version of Vacation Bible School combined with weekly Sunday School) are one of the fastest growing ministries within India Gospel League. In the past decade, enrollment has nearly tripled: from 275,000 children enrolled in 2006 to 800,000 children this year. But what's even more exciting is that roughly 80 percent of the kids who attend a CGC become disciples of Jesus, many of them growing up to become church leaders or CGC leaders! In fact, approximately one third of this year's CGC teachers were CGC participants themselves.
Every year we receive testimonies of changed lives as a result of meeting Jesus at a CGC. And often we hear of whole families impacted when the power of Jesus' love is shown through the simple faith of these new young believers. Below, we share one of our favorites:   
My name is Parvathi. My family are all Hindus. When I attended a Children's Gospel Club in my village, I accepted Jesus Christ as my personal Savior and began to love Him. I was so excited about my new faith. I wanted everyone in my village to accept Jesus Christ. But my parents were still Hindus. Initially, they did not allow me to go to church. I love praying. I would go to the church at all hours of the day to pray. Slowly, I began to see God answering my prayers. I started to pray for my family members and also for my village people. God put a burden on my heart to pray for the entire village.

God kept answering my prayers, and even my parents were saved! Before, around 50 people came to the church. Now almost 100 people are coming to the church every Sunday. Thank God for giving me a spirit of prayer.
As always, this huge CGC initiative is only possible by the grace of God, prayer, and financial support of partners like you. We are grateful for every dollar that has been given so far and are moving ahead in faith this summer that God will provide the additional resources necessary to continue this good work. Will you pray with us that the Lord would provide the funding necessary for CGCs to continue to move forward? And will you prayerfully consider responding to the need by sending one or more children to a CGC for just $1 per child?