TIME FOR CHANGE: PREPARING FOR THE FUTURE
SUMMER QUARTERLY NEWSLETTER 2016
July 5th, 2016 by Kate Smith | 2 Comments | Posted in Field Updates, Opportunities

After twenty years of providing affordable health care to thousands of patients, it was time to reassess the role Sharon Hospital currently plays in the community and determine how we can best extend God's love in the future. What are the pressing needs of the health care industry in India today? Are there areas of health care that are widely unaddressed? How can we best reach those in need with the love and care of Jesus?
We discovered that while the mission and nature of our medical ministry remains unchanged, our methods need to be revised. When Sharon Hospital was first built twenty years ago, quality medical care in Southern India was both limited and largely unaffordable. Care for cancer patients was only available to the affluent living in urban areas. In this context, God allowed India Gospel League's Sharon General Hospital to fill in some gaps, providing medical and cancer care that was both accessible and affordable to the nearby (and mostly rural) population.
Today, the medical landscape in Southern India looks quite a bit different, with high-tech hospitals and state-of-the-art infrastructure coming to the area. So, while there is no longer a lack of quality health care, the problems of affordability and accessibility to the poor remain. As IGL's leadership prayed and sought counsel about what new needs it should focus on, God revealed a great need in the area of palliative care for children.
At present in India, only one percent of the population has access to palliative care. Much like hospice care, palliative care is designed to treat patients who are suffering from a chronic or terminal illness. Unlike hospice care, however, palliative care is not limited by time and is often administered at a hospital instead of a home. It is estimated that only about 200 palliative care centers serve the 1.3 billion population of India. Our focus will be primarily on children who are in desperate need of this kind of compassion and love.
A large part of the population with terminal illnesses are currently with no choice but to manage the pain and cope with the illness at home or through expensive stays at a hospital. For many children, this kind of treatment is completely out of reach. The financial and mental burden on both the families and the patients is immense, leaving many kids to die an undignified death.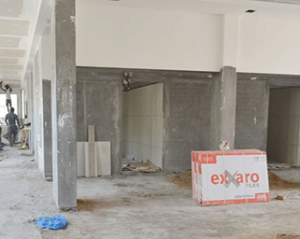 The Sharon Palliative Care Center plans to offer a better solution and will open its doors early this fall.
The center will serve as a place of hope in the midst of death. For families and children who are not assured of their right-standing with the Lord, our staff will be able to provide answers where most other hospital personnel cannot – they will be able to share the gospel message of Jesus! In this respect, we pray that the new facility will be a beacon of both earthly and eternal hope for "the least of these."
Would you join us in prayer for the Sharon Palliative Care Center and its impact on the community?
Praise the Lord for the new direction he is taking this component of IGL's medical ministry!
Pray for the construction of the Palliative Care Center that it will continue as scheduled and open in the fall.
Pray for the children and families who will be served by the center that they would be touched by the love of Christ, and that many would respond to the gospel.