Sharon Hospital opens a new Palliative Care Center!
September 29th, 2016 by Kate Smith | 1 Comment | Posted in Field Updates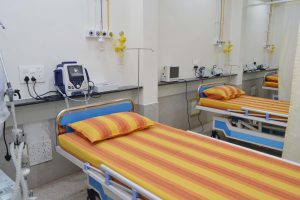 "Most people think we are in the land of the living on our way to the land of the dying. But actually, we are in the land of the dying on our way to the land of the living. That's why I say death is a conjunction, not a period. It is the bridge between this life and the life to come." Tony Evans.
On September 13, IGL's recently renovated general hospital accepted its first palliative care patient! At Sharon Palliative Care Center, people living with a life threatening illness receive help to live as actively as possible, from the point of diagnosis to the end of life, through physical, emotional and spiritual support. With only about 150 palliative care centers across India, this new focus will fill a much needed gap in medical care, while also continuing to operate as a general hospital. And next year, Sharon Hospital plans to open an entire section dedicated to palliative care for children!
Sharon Palliative Care Center offers patients a dignified, peaceful place to pass from this life, a place where patients and their families experience the tangible love of God. As a person's final days near, patients long for a caring embrace, a warm smile, a serene environment, a glimmer of hope. Dedicated doctors and nurses at the care center understand this and strive to make the final phase of their journey pleasant and comfortable. Previously, a family's only option was to watch their loved ones struggle at home in pain and discomfort during their final days, unable to provide the necessary care the situation demanded. Now they can have peace of mind knowing their loved one is in good hands, receiving compassionate, quality care.