A Pastor's Call to God's Mission
Fall Quarterly Newsletter 2016
October 17th, 2016 by Becky Stanley | | Posted in Encouraging Stories, Field Updates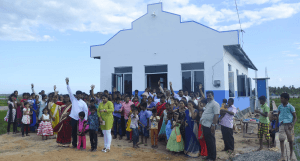 I met Pastor Udayakumar in 2004 when we began our relief and rehabilitation work in the aftermath of the tsunami. He joined our staff team and taught kids at a study center established through our Adopt-a-Village (AAV) program. When I first met him, he immediately struck me as being a very sincere and conscientious person, and his work showed it.
I can say that he was one of the finest tutors the children had. He not only taught them but cared for each child as his own, especially since some of them had lost their parents in the disaster. He himself suffered great loss, losing his house and all his belongings.
While working with the AAV program, he developed a passion for the lost. He began praying and was led into full time ministry in Sri Lanka.
I saw him again after many years and was overjoyed to see him rise to be a church planter and a shepherd of a vibrant congregation. In partnership with the Vision 2000 movement*, I had the privilege of dedicating their Life Center, a beautiful facility that seats about 150 people, on July 28, 2016.
During the dedication service, as Pastor Udayakumar shared his testimony, the grace of God and the marvelous power of the Holy Spirit were evident in his life and ministry. He began his ministry under dire conditions, barely able to provide for his wife and two children. He was beaten and thrown out of his village because people thought he was stirring up trouble. Once, he was even imprisoned along with a group of young men who had beat him. But while in prison, he stood with his persecutors, prayed for them and shared the good news of the gospel. His testimony of Jesus was so compelling that the leader of the gang accepted Christ right there and one-by-one the others, too, accepted Christ. From there a church was planted.
Today, Pastor Udayakumar is relentlessly pursuing his God-given mission. And this new Life Center will soon become a hub of life-giving activity – tangible evidence of the kingdom of God in his village. With his past experience and training in community development, he now wants to begin programs for educating children, training women and engaging young people. His vision for his village is much more than just planting a church: it is for holistic transformation of the community, for God's glory.
As we concluded the service, dedicating the people, their pastor and their new building to the Lord's work, I was overcome with emotion. To witness the dedication of the 40th Life Center in the country of Sri Lanka (through IGL's Vision 2000 movement) was nothing short of a miracle. It is a milestone in IGL's ministry in Sri Lanka. But more so, a testament to the movement of God…the kairos moment. I am grateful to God for allowing us such a privilege to be a part of his work and grateful for partners he has brought together to help us attempt great things for his kingdom.
Please continue to pray for:
Pastor Udayakumar and his family
For ongoing efforts for discipleship and Christian education of the believers
For the community development programs for children and women Pastor Udayakumar plans to initiate
By Becky Stanley
Directory, Rural Development and Children's Ministries