CHILDREN'S MINISTRY UPDATE
July - August 2016
October 17th, 2016 by Becky Stanley | | Posted in Field Updates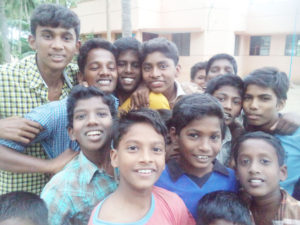 Medical Camps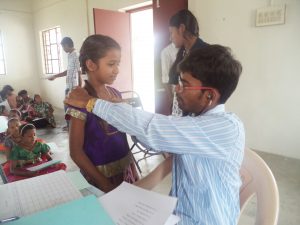 Medical camps are conducted in a different IGL children's home every Saturday to ensure each child's health status is screened once every three months. In a combined effort by IGL and Sharon Hospital, 800 children from IGL children's homes received medical checkups this summer through these medical camps. Most of the children are underprivileged and would not previously have the opportunity to consult a doctor, due to the high cost. Because IGL promotes holistic care, every child in our homes receives basic medical care. Detailed health records are maintained for each and every child indicating the growth and development of the child, medications prescribed, etc. We praise God for His guidance to the medical team and also for His protecting arm over all the children living in IGL homes.
Independence Day and Annual Sports Day Celebration
IGL celebrated India's Independence Day on August 15 with a sports day for the children residing in IGL homes. The celebration included flag-hoisting ceremonies, parades, cultural events and sporting events. It was exciting to see the creative ways each home devised to engage and encourage children of all ages to participate in the events. The IGL office staff also had the opportunity to go to the homes and join in the fun. The highlights of the event were the sack race, running race, lemon and spoon race, kabaddi, cricket, volley ball and musical chairs. The staff was amazed to see the involvement and unity of children throughout the event. They also enjoyed the chance to join the children in the festivities. The winners were awarded prizes at the end of the events and their pictures were taken. All the children expressed their heartfelt thanks to IGL President, Rev. Samuel D. Stephens, and Mrs. Rebecca Stanley, Child Care Director for their support and encouragement to participate in this celebration. We thank and praise God for His provision and grace which helped each home successfully organize this special event!
Personal Testimony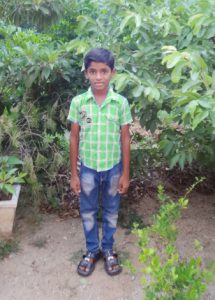 Viswa, a 6th grader living in Bethel Home, was raised in a Hindu family. His father works for daily wages by doing construction and his mother works as a house maid. He has three older sisters who study at home. Viswa was admitted into the home last year because of his family's extreme poverty and his irregular school attendance.
Though Viswa's family previously practiced Hinduism, by God's grace the whole family became Christians five years ago. Viswa, after joining the home, came to know about Jesus and His love. Slowly his life was transformed and he showed interest in learning. But he would unexpectedly faint at times for no apparent reason. His parents took him to a hospital to diagnose the problem. He was treated and prescribed some medications but still his fainting problem persisted.
Once while at a youth retreat, Viswa fainted suddenly. The pastor prayed for him and through divine revelation believed this to be a result of a spiritual attack. The pastor continued to pray for Viswa's deliverance. God answered their prayers, completely delivering him from the spiritual forces of evil! Now he is no longer plagued by fainting spells and he is confident that our Lord Almighty dwells in him and protects him. Viswa now praises God for all He has done in his life.
Prayer Points
Please continue to pray for the health and protection of all the children.
Pray for the new children recently admitted into the home to adjust to their new surroundings, and for their salvation and spiritual development.
Pray for local support from surrounding villages for the children's homes, as a few homes face challenges.
Pray for the helpers, cooks, house parents, superintendents and pastors who care for the children in the IGL children's homes.
Praise Points
Praise God for the good marks received by the children on their government exams.
Praise God for His hand of protection and blessings upon the children in the various homes.
Praise God for His provision for all the IGL Homes.
Praise God for the medical camps held recently.
Praise God for helping us to celebrate Independence Day with an annual sports day.