The Power of Prayer
Fall Quarterly Newsletter 2016
October 17th, 2016 by IGL Admin | | Posted in Field Updates, Opportunities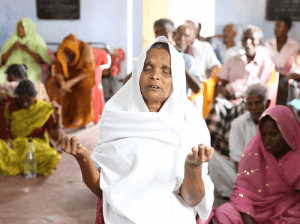 There is only One who is able to answer our prayers for redemption, healing and salvation: the Lord Almighty, the Alpha and Omega. Even though there is no one else who has the power to answer prayer, many hundreds of thousands still plead in desperation to statues built by man, crying out for answers. One man, Nana, was among this number.
Raised in a Hindu household, Nana had great faith in the idols his family worshiped. But when he became ill and his condition continued to worsen despite many prayers to the family gods, his faith was shaken. None of the false gods he trusted so much had the power to heal him. Nana grew depressed and discouraged.
One day, he heard about a Christian prayer meeting being held in his village. Thinking he had nothing to lose, he decided to go. It was there Nana heard about Jesus, who claimed to be the One True God and the only way to salvation. Since Nana's family gods had failed him, he decided to put his faith in Jesus. Miraculously, when he prayed, he was instantly healed of his illness!
The Father was indeed glorified in the Son, as God visibly demonstrated his matchless power. Through Nana's testimony many more are coming to know the One True God. Praise the Lord!
At India Gospel League we aim to raise 10,000 prayer partners committed to praying with us for South Asia. A few thousand have already signed on, and we'd love to add your name to the list! Sign up to receive our biweekly Field and Prayer Updates.