Bihar Flooding Update
August - October 2016
December 8th, 2016 by Kate Smith | | Posted in Field Updates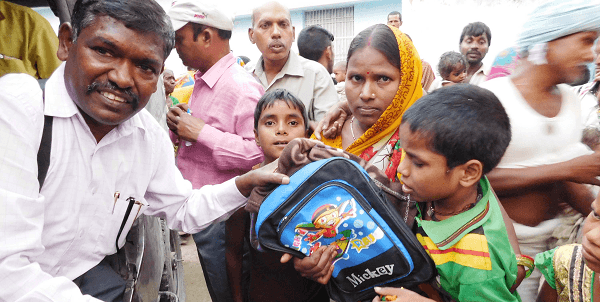 Introduction
Normally, in the Northern and Eastern parts of India, the rainy season starts in June and continues through the first week of October. After the devastating floods in 2008, the rainfall was much less than normal. But in July 2016, Bihar experienced much heavier rainfall than normal. Most of the rivers overflowed, including the Ganges, which flows through the heart of the state of Bihar. Nearly 300,000 were forced to leave their homes, including 11 of our own pastors and many more within the villages they serve.
Damages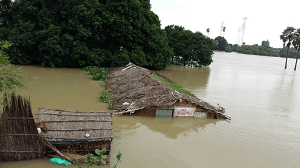 The overflowing rivers flooded villages along the river belt, destroying most of the houses and damaging the crops. Eighty percent of the people lost their belongings: houses were damaged, household animals either died or were washed away in the flood water. The families also lost their grains and children lost school books, bags and clothes.
The flood water covered the villages for more than 20 days. So many people were forced to leave their homes and belongings and lived along the roadside and in refugee camps. It was the worst flood in 30 years in this part of the country. More than 2 million people were affected by the flood.
Relief through IGL
For more than a decade, God's work has progressed well among the Bhojpuri people through IGL's initiatives. Disciples are multiplying, and new churches are being planted.
By God's grace, Pastor Munna, one of the Vision 2000 pastors living in the area, planted more than five churches in five different villages in three years. Two of these five villages were affected by the flood.
There are 11 Vision 2000 pastors located where the damages were the worst. The flood water did not drain for nearly 20 days, which led to the spread of diseases like malaria, dengue and skin diseases. The pastors helped the affected people by providing for physical needs and praying for the people.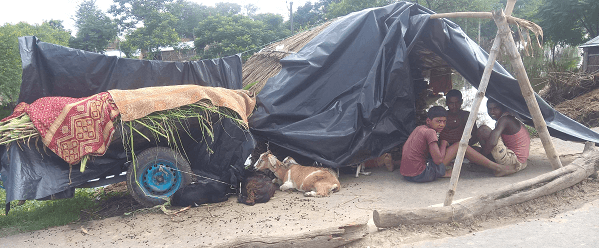 Relief work in the villages
Villages visited: 8
People provided with medical care and medicine: 1,084
Families provided with blankets: 200
Families provided with floor mats: 200
Families provided with mosquito nets: 200
Children provided with school bags: 75
Testimonies
"We were living in flood water for 20 days, and I was finding it so hard to feed myself and suffered from a high fever. But I got free treatment and medicine through IGL's medical camp. Also I received a mosquito net and blanket to protect myself, and it will be very helpful to me." – Mrs. Janki

"My house was destroyed by the flood, and we were living under a tree in a small tent. I got a tripol, blanket and mosquito net through IGL's relief camp; I was really in need of these things, it is great help for my family. I am thankful to IGL and Pastor Anil Juit for this help." – Mr. Bharat

"I lost my school bag and books in the flood, and my parents could not buy a new one for me, so I was finding it hard to go to school. As I was praying for a bag, God provided one for me through IGL's relief camp, and it will be helpful for me. I thank God for meeting my needs." – Miss Sulekha

"I lost all my belongings and household animals in this flood. I was waiting to get relief from the government, but it was not possible. Pastor Salender provided us with free medicine and relief materials through IGL's camp. I am very thankful to Lord Jesus Christ and to the relief team." – Mr. Birbhadur

"I lost all my crops, and was living in flood water for 15 days with my family. Nobody was there to help us, not even the government. But our pastor provided us with a floor mat, blankets and a mosquito net and school bag for my son. We give thanks to IGL and the pastors for this help and also special thanks to our Lord Jesus Christ." – Mr. Rasbihari
Second phase planned for December
The second phase of relief work is planned in three villages during the first week of December due to the currency crisis in India right now. The relief materials will be the same as that of other villages, about 25 families will be benefitted in each village.
CONCLUSION
The Lord was so good to us throughout the relief efforts completed thus far. Even though the people are so sad that their cultivation and property were lost due to the flood and heavy rain, they are able to give thanks to the Lord for the loving acts of IGL, where the state failed to provide relief. We were able to see people giving thanks for the small helps and contribution made by IGL and glorifing God for the love and compassion showed to them. Keep praying for the complete recovery of the people physically and for people who lost their belongings to come back to normal life.