Child Care Update
December 2016
December 22nd, 2016 by Kate Smith | 1 Comment | Posted in Field Updates

Star Fest 2016
Advent is upon us and soon we will celebrate Christmas. The joy, peace and hope of Christ's birth is and always will be of great significance for all humankind. We, at India Gospel League (IGL), affirmed this as we began the 2016 Christmas celebrations. Star Fest, an annual two-day special Christmas event for the children living in an IGL children's home, is a favorite. The theme for this year was taken from Luke 2:17, "When they had seen him, they spread the word…" The children meditated on the importance of spreading the good news of the gospel of Jesus Christ. In a world where the message of Christmas is diluted to mere tradition or is debunked as a myth, our commitment remains to experience the Prince of Peace and celebrate with purpose the true joy of this season.
Eight hundred children from 14 children's homes spanning six language groups from five states were represented at this year's Star Fest. The excitement and joy was apparent on the children's faces as they participated in a series of competitions showcasing their unique talents. The competitions were interspersed with puppet shows, games, and magic shows. This captured the attention of the young audience and impressed upon them that our celebrations are not an end in itself but a means to spread the message of Christ.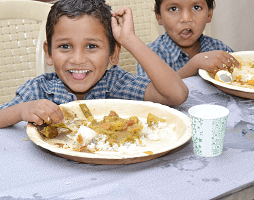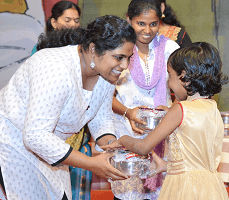 Testimonies from Star Fest
"Through teachings on the theme, this Star Fest has instilled in me a greater yearning to spread the goodness about Jesus and to lead my family and friends to Christ." – Jothi, 6th grade, Sharon Home

"I have been in children's ministry for the last 25 years. Because of government controls and policy changes, we were facing a lot of problems and I was discouraged. I was wondering if running a children's home was even possible in this kind of a political climate. Yet, being at Star Fest this year and experiencing the joy and hope that comes at Christmas, I was greatly encouraged and recommitted myself to serving God and the children He has entrusted with me." – Pastor George, Superintendent, Rebekah home

"When we come to Star Fest it is like coming to a family reunion." – Mary Grace, Superintendent, Grace Emmanuel Home
Prayer Requests
Please pray that the Holy Spirit will continue to move in the hearts of the children and Christ will indeed be born in their hearts.
Please pray for safety in travel; several of the children are from Jharkhand and Maharashtra. They traveled for several days to be in Salem.
Please pray that God will provide the much needed resources for next year's event. It not only provides food and gifts for the children but gives them an opportunity to celebrate Christmas in a meaningful way.