Lord, teach us to pray
January 4th, 2017 by Kate Smith | | Posted in Field Updates
Thank you for praying for the 2016 NAIC conference! Pastors from all over Sri Lanka, Nepal and India gathered last November to experience fellowship, prayer, teaching and spiritual refreshment over the three-day assembly.
The conference debuted the 2017 teaching theme: "Lord, teach us to pray" based on Luke 11:1. It was a time filled with inspiration and conviction as 539 total attendees recommitted themselves to prayer.
The gathering brought together teams from the U.S., Australia and India to teach on the various prayer topics. From the power of prayer, to learning to pray as Christ did, from our prayer perspectives to the importance of praying with others, the speakers clearly conveyed the necessity of a robust prayer life. After the sessions, alter calls were made, giving pastors the opportunity to repent and devote themselves to prayer. Day two highlights included the ordination of 17 pastors followed by a special communion.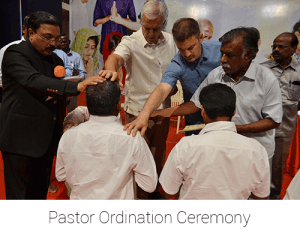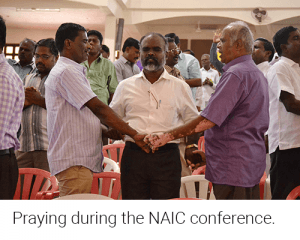 Testimonies from conference attendees:
Pr. Andrew
"NAIC conference of this year was very special for me as I learned several new teachings about prayer in a simple way. Most of them were new to me; the Lord's Prayer gave me a new idea to look at my regular prayers. I will be teaching the subjects learned to my church believers. I am sure that I can make a huge impact in the nation as the Lord worked in my heart."
 
Pr. Paul
"I understood the importance of prayer not as my regular schedule but to develop my relationship with the Lord. The teaching of Rev. Fred was very simple yet powerful using various illustrations to explain teachings from the scriptures. His teaching on praying with our spouses pricked me for not giving importance to that so far in my life. I committed to pray with my wife regularly. I was renewed and revived through all the teaching sessions of the conference. May God be glorified as I teach the same to my church believers."
Sis. Gnanamani
"The NAIC conference for this year was so impressive and challenging in my ministry life and personal prayer life. I got a deeper understanding about prayer from this conference. The importance of repentance and holiness in prayer was a new thinking I received in this conference, I am so grateful for this theme. I will be teaching what I have learned in this conference in the near future."